Falun Gong Practitioners Participate in Christmas Parades In Many Countries Around the World (Photos)
(Clearwisdom.net) In the last few years, Falun Gong practitioners from many countries around the world have actively participated in local Christmas parades, spreading the Chinese culture and the principle of Truthfulness-Compassion-Forbearance. They demonstrated exercises, performed Chinese dances and music during the parades and their performances have been warmly welcomed by spectators. They also won numerous proclamations and awards for their excellent performances.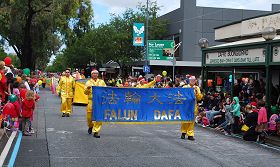 Christmas Parade in Port Adelaide, Australia
The Divine Land Marching Band, consisting of Falun Gong practitioners, often participated in the Christmas parades. Besides the band, practitioners often play waist drums, and perform celestial maiden dances.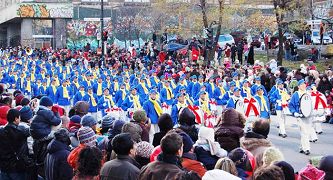 The band in Montreal, 2007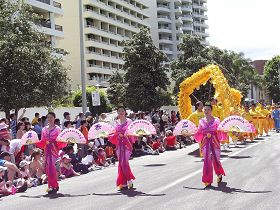 Celestial Maiden dance in Australia, 2010
Waist drum performance in Hollywood, USA in 2007
On December 14, 2010, Falun Gong practitioners from the City of Mandurah, Australia, participated in the local Christmas parade. The Mayor, Paddi Creevey, issued the highest award to the Falun Gong group.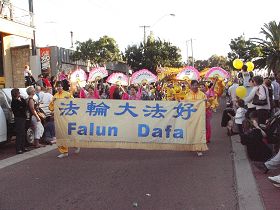 The parade in the City of Mandurah
On December 28 and 29 practitioners from Toronto, Canada, participated in three parades in Markham, Brantford and Mississauga. More than 100 thousand people watched the parades and the local TV broadcasted them live.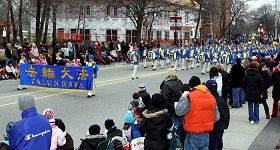 The parade in Mississauga
Very often, the Falun Gong group is the only Chinese entry in the parade. In 2009, for the fifth time, Falun Gong practitioners from California participated in the famous 81-year-old Holiday Season Parade in Hollywood. They were the only Chinese group. The same year, Falun Gong was the only Chinese group in the Christmas Parade in Montreal. They had been invited three years in a row. In 2010, the Divine Land Marching Band performed in the Christmas parade in Vancouver. More than 60 groups participated, 300 thousand people watched it, and the band was the only Chinese group.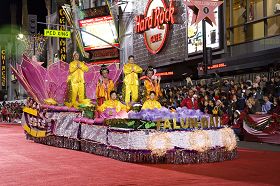 The parade in Hollywood 2009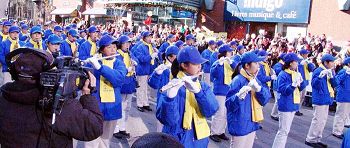 The parade in Montreal 2009. More than 300 thousand people watched it.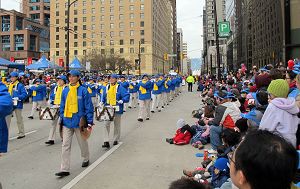 The band in the Christmas Parade in Vancouver on December 5, 2010
Many Chinese people are proud of the Falun Gong group in the parades, for they represent genuine Chinese culture. Ms. Wang from Shandong province came to Canada a few months ago. She warmly applauded for Falun Gong in the parade. She said, "I am very happy to see Falun Gong practitioners freely demonstrating their beauty and righteousness. They have the freedom in Canada."
Ms. Wang said: "Several friends of mine practice Falun Gong. They are all good people, but have been persecuted. I am upset about the persecution they suffer, meanwhile I am touched by their spirit. This is why I am so excited to see Falun Gong here. It is nice to live in a free country."
The following are some pictures from the Christmas parades all over the world.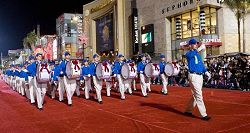 Hollywood, USA, November 25, 2007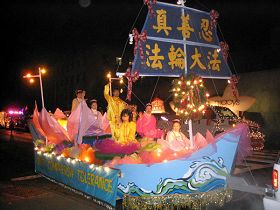 Oregon, USA, December 13, 2008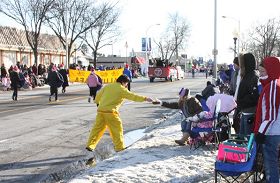 Rochester, Michigan, December 7, 2008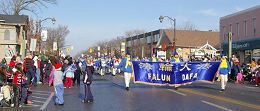 Markham, Canada, November 25, 2006. Falun Gong group won the second place in the parade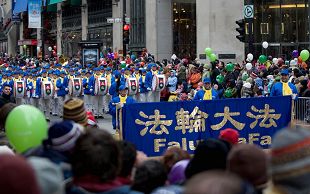 Montreal, Canada, November 25, 2008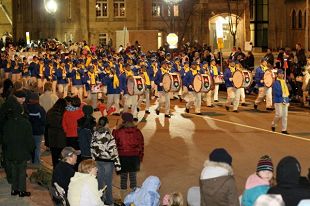 Brantford, Canada, November 29, 2008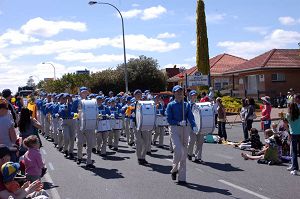 Christies Beach, Australia, November 15, 2008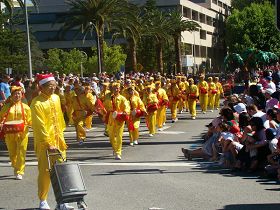 Perth, Australia, December 7, 2008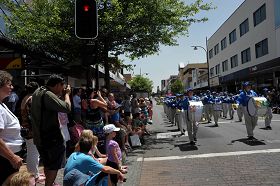 Sydney, Australia, November 28, 2009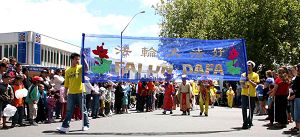 New Zealand, November 25, 2006
New Zealand, 2008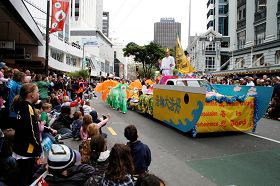 New Zealand, November 15, 2009