Taiwan: Yilan County Council Passes Resolution Denying Entry of CCP Human Rights Violators (Photos)
December 24, 2010 | By Tang En
(Clearwisdom.net) On December 21, 2010, in its 17th session, the Yilan County Council passed a resolution calling on the Mainland Committee and Immigration Bureau to investigate whether Chinese Communist Party (CCP) officials applying for entry into Taiwan have been involved in severe human rights violations, and to deny their entry if they are found to have violated human rights. The resolution also requests the Yilan government and non-governmental organizations to not welcome, support, or invite to Taiwan CCP officials who seriously violate human rights. The resolution was sponsored by Council Member Chiang Tseng-yuan and co-signed by another 27 council members.
So far, besides the Legislative Committee, which passed a similar resolution, eleven county or city councils including Kaohsiung City, Changhua County, Miaoli County, Hualian County, Yunlin County, Chiayi City, Kaohsiung County, Taidong County, Chiayi County, and Yilan County have passed this human rights resolution.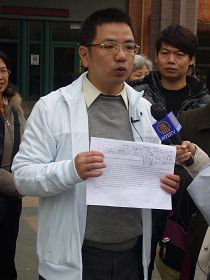 Council Member Chiang Tseng-yuan shows the content of the resolution co-signed by 27 council members.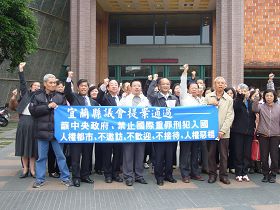 Group photo of four council members with local citizens in front of the County Council Building
On December 22, council members Chiang Tseng-yuan, Lai Jui-ding, Wu Fu-tian, and Huang Shi-chao, who co-signed the resolution, held a press conference in the Yilan County Council. Mr. Chiang said, "Currently, economic and commercial trade across the strait is very prevalent. Taiwanese people don't know the purpose of some mainland visitors and the background of some CCP officials. It is a crisis for Taiwan. We call on the central and local governments to look into these issues carefully."
Council member Lai Jui-ding said, 'Human rights are a universal value and Taiwan has successfully striven for many years to safeguard human rights. China is an authoritarian country that persecutes human rights. Chinese officials who have had major roles in the denial of human rights and have been promotion by the CCP because of these activities, may have opportunities to visit Taiwan. It is definitely a great irony for Taiwan, a country that upholds human rights, to welcome such CCP officials."
Mr. Lai continued, "We hope that this resolution will encourage all people to learn more about human rights, and to become fully aware of the CCP's persecution of human rights, especially the brutal persecution of Falun Gong practitioners. We hope that the CCP's deliberate trampling of human rights can be exposed."
The resolution also stated that the media disclosed that Guangdong Province Governor Huang Huahua, Shanxi Province Interim Governor Zhao Zhengyong, Director Wang Zuoan of the CCP Religious Affairs Bureau, and Hubei Provincial CCP Committee Secretary Yang Seng were sued in the high court during their visits to Taiwan for their participation in the persecution of Falun Gong. They have committed crimes of genocide and torture, and violated international conventions on civil and political rights. The Taiwanese Falun Dafa Association filed lawsuits in the Prosecutor's office of the high court against these human rights violators.