Kuta Beach, Indonesia: Candlelight Vigil Held to Commemorate Falun Gong Practitioners Killed in China (Photos)
December 22, 2010 | By: Indonesian Falun Dafa practitioners
(Clearwisdom.net) On Sunday afternoon, December 19, 2010, dozens of Falun Dafa practitioners clarified the facts to local and overseas tourists at the famous Kuta Beach, one of the main tourist spots in Bali. According to the coordinator of this event, this activity was to commemorate fellow practitioners killed in China for their firm belief in Truthfulness-Compassion-Forbearance.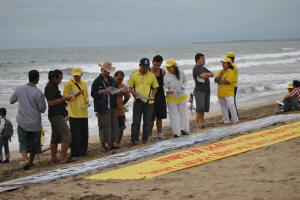 Clarifying the truth on Kuta Beach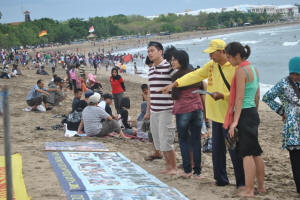 Clarifying the truth on Kuta Beach
In front of practitioners there were yellow banners that read "Falun Dafa Is Good," "Stop CCP's Harvesting Organs from Living Falun Gong Practitioners in China." Practitioners also showed posters and banners which display the spreading of Falun Dafa worldwide, as well as photos of CCP atrocities in persecuting the practitioners in China.
In the afternoon, the practitioners did the standing exercises and sitting meditation on the beach. The cloudy weather provided an atmosphere that was very sacred in the midst of the hustle and bustle of the tourists. Many visitors took photos as the practitioners were doing the serene exercises. Some learned the exercises on the spot, while others asked for further information on the persecution in China. After having learned the truth, many visitors signed the petition to condemn the CCP's crimes against Falun Gong practitioners.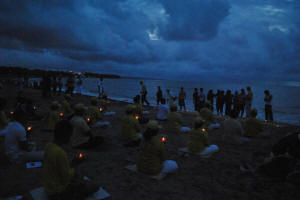 Candlelight vigil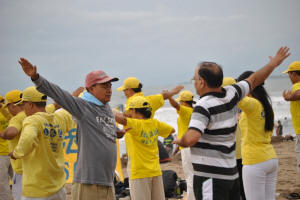 Teaching the Falun Gong exercises
In the twilight, accompanied by peaceful Dafa music in the background, and the rough waves of the ocean in front, Balinese Falun Gong practitioners held a candlelight vigil on Kuta Beach to commemorate the Chinese practitioners who were persecuted to death by the Chinese Communist regime in mainland China. Many visitors watched this activity with rapt attention. The practitoners ended their activity at 7 pm.