Glasglow, Scotland: Exposing the Persecution of Falun Gong (photo)
December 20, 2010 | By a practitioner in Scotland
(Clearwisdom.net) Falun Gong practitioners were invited to the Amnesty International meetings at the University of Glasgow on the evenings of November 9 and 17, 2010. Practitioners talked to the students about the brutal persecution of Falun Gong and showed a documentary video called "Between life and death"exposing the CCP's organ harvesting from living Falun Gong practitioners.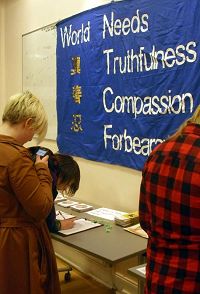 Students call on the British government to pay attention to CCP organ harvesting atrocities and sign their names to a letter of appeal.
On the evening of November 9, the Falun Gong practitioners gave an introduction tot Falun Gong. They talked about how Falun Gong is beneficial to one's health and how it improves one's moral standard. They also explained why there were close to one hundred million Chinese people practicing Falun Gong before the CCP initiated the persecution of Falun Gong. In order for the students to understand better the CCP's nature of lies, evil, and violence, the practitioners showed them a film called False Fire, which exposes the self-immolation propaganda stunt that the CCP staged on Tiananmen Square to turn public opinion against Falun Gong.
Some students expressed, that almost every month they receive an email urging action from the head office of Amnesty International UK, and that many of these cases are Falun Gong practitioners. Thus they had already heard a bit about the persecution, but that they were not clear on why the CCP is so intolerant of Falun Gong. Now they understood – it is because of the nature of the CCP, which cannot tolerate Falun Gong's principle of Truth-Compassion-Forbearance.
After the event concluded, the students took some CDs with Falun Gong information. Some of them even asked for Chinese versions of the film False Fire to give their Chinese friends.
On the evening of November 17, Falun Gong practitioners once again came to the St. Andrew's Building to show a documentary video called "Between life and death." The film "Between life and death" exposes the CCP's violent crimes of harvesting organs of prisoners of conscience, including those of Falun Gong practitioners.
After watching the film, an English student named Kelight said: "All of us who saw this film were shocked. It indicates in general not many people know that this sort of thing is happening right now. What I mean is, initially people heard of the Nazi's experimenting on prisoners of war during the holocaust of Jewish people, and at that time no one believed it either. But later people said that we should not let such a thing happen ever again. I think that if people see this film, they will be compelled to do something about it."
Claudia, from the university's Politics department said: "We must put more pressure on them (the CCP), and make them know that we know what is happening currently. We are paying close attention to the things that are happening, including this tyranny. If the CCP thinks that no one knows about what they are doing (live organ harvesting from Falun Gong practitioners), then they will continue doing what they are doing because they feel that they can succeed in escaping punishment. We need to exert pressure on the CCP, and we should unceasingly expose its crimes." Claudia also said: "People should not be victims of torture, and should not be persecuted to death, neither should they live amidst brutality."
On the same evening, all the students in attendance signed their names on an appeal letter calling on the British government to pay attention to the CCP's atrocities of live organ harvesting from Falun Gong practitioners. Students also left with some letters of appeal, to enable more teachers and students to come to know and help stop the persecution. The person in charge of the Amnesty International group in Glasgow University expressed that he would send the web page link of "Between life and death"to all the students on the Amnesty International email list.