Taiwan: Resolutions Calling for Denial of Entry to CCP Human Rights Violators Gain Support
December 13, 2010 | By Li Hui-rong
(Clearwisdom.net) County councils throughout Taiwan have recently passed resolutions in support of human rights in mainland China. The county councils of Kaohsiung, Changhua, Miaoli, Hualian, Yunlin and Chiayi each passed resolutions calling for the government to not welcome, support, or invite to Taiwan Chinese Communist Party (CCP) officials who seriously violate human rights. On December 7, 2010, the Taiwanese Legislative Committee passed a resolution against the entry of CCP officials who seriously violate human rights.
Legislation Committee member Tian Chiu-ju stated, "It is meaningful for the resolution to be passed before International Human Rights Day. This shows the CCP that others can take a stand against the CCP's widespread violation of human rights in China. With this resolution, the Taiwanese government can be asked to deny entry to human rights villains."
Well-known human rights lawyer Chiu Huang-chuan said, "The resolution itself is meaningful. To check its implementation, the Legislative Committee or its members need to pay attention to China's human rights situation and persecution [taking place in China]. In this way, those infringing upon human rights can be known and won't be invited to visit Taiwan."
The Taiwanese people are concerned about the persecution of Falun Gong in China
Mr. Tian Chiu-ju suggested that the Taiwanese government set up a National Human Rights Council on International Human Rights Day, "Safeguarding human rights means that one can take action and speak out when necessary. In this way, human rights can be safeguarded," he said.
Reporter Yang Hsian-hong pointed out, "The Human Rights Council should discuss the resolutions that have been passed by local elected officials and make a statement. In order to support human rights, the Taiwanese governments should not invite CCP officials who are involved in the persecution of Falun Gong to Taiwan. Much work needs to be done [towards safeguarding human rights]. For example, the Judicial Department should take action to deal with charges against CCP officials when they visit Taiwan. There is no reason to avoid such lawsuits against CCP officials."
Mr. Yang said, "The resolution not welcoming CCP officials involved in the persecution of Falun Gong should be made known to all Taiwanese people. It safeguards Falun Gong practitioners, as well as all Taiwanese citizens, because these CCP officials persecute Falun Gong now, and will persecute the Taiwanese people in the future, especially Taiwanese business people in mainland China. In a word, your showing concern for Falun Gong today is actually showing your concern for the Taiwanese people tomorrow."
The resolution is a warning to perpetrators of persecution
Editor-in-Chief of the Hong Kong publication Open Magazine Chin Chong remarked, "The passing of these resolutions indicates that Taiwan has its own sovereignty and is different from Hong Kong. Hong Kong needs to comply with Beijing's stance. For example, Shen Yun Performing Arts was denied entry at the last moment by the Hong Kong government, indicating that Hong Kong is controlled by the CCP. Taiwan is a truly democratic society and does not follow the CCP, even though economic trade across the strait is important. The Taiwanese people maintain their own views and do not yield to the CCP. This is highly commendable."
Falun Gong practitioners have filed lawsuits against Jiang Zemin and other perpetrators of the persecution in many countries. Mr. Chin said, "The persecution of Falun Gong was apparently initiated by Jiang Zemin. He forced his followers and other officials to carry out the persecution. Therefore, CCP officials are all involved in the persecution to some degree. The resolution passed in Taiwan is a blow to them. They need to think it over and should not dare go to Taiwan if they were involved in the persecution of Falun Gong."
Exiled Chinese poet Bei Ling believes that CCP officials who violate human rights or who commit crimes, no matter at what level, should be not be welcomed or received in Taiwan. He further feels that such a resolution should be passed in every county or city council.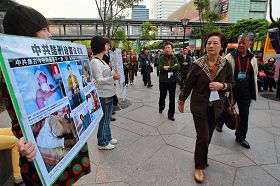 Chinese tourists view poster boards held by Falun Gong practitioners on Hsiyi Square in front of the Taipei 101 building.
Mr. Ling pointed out, "In scenic sites in Taiwan, I frequently see Falun Gong practitioners displaying photos exposing the CCP's persecution of Falun Gong. I think in Taiwan, elected officials who are paying attention to the human rights resolution can relate it to Falun Gong practitioners' continuous efforts to expose the CCP's persecution of Falun Gong."
Mr. Ling feels that such resolutions passed in county or city councils will have a deterrent effect on the CCP. Those CCP officials who commit human rights crimes will be afraid of receiving court summons when they visit Taiwan, which will deter them from committing more crimes. "It is important to have them know that evil deeds will have consequences," said Mr. Ling.