Taiwan: Kaohsiung County Council Unanimously Passes a Resolution Denying Entry to Human Rights Violators (Photos)
December 12, 2010 | By Clearwisdom correspondent Su Rong
(Clearwisdom.net) On December 10, International Human Rights Day, Kaohsiung County Council unanimously passed a resolution "calling on the central government to conduct checks of CCP officials, to not issue entry permits and to deny entry of those who violate human rights." The Kaohsiung government does not invite, welcome or receive those human rights violators. Resolution sponsor Chen Hui-wen said, "All friends with common interests, stand up and form one righteous voice in the international community. We ask those countries with democracy and rule of law to join us to condemn the inhumane, autocratic and authoritarian CCP regime."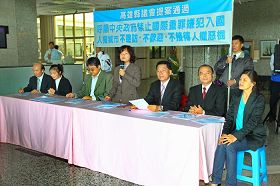 A press conference held right after the resolution denying entry of human rights violators passed in Kaohsiung County Council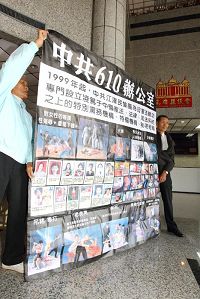 Posters exposing the CCP's persecution of Falun Gong
Kaohsiung Council unanimously passed the resolution at its 24th meeting of the 16th session. A press conference was held on December 10. Ms. Chen said, "With the merging of Kaohsiung City and County, the county council is making history. The resolution is also a mark for history."
County council member Lin Lian-sen said, "The CCP's persecution of religious beliefs is severe. The regime even conducts live organ harvesting for lucrative profit. Many CCP officials do not respect human life, but have been treated with hospitality in Taiwan. It is ridiculous. We need to use the media to speak out and urge the central government to implement the resolution."
Former national policy councilor Chou Ping-de said, "Taiwan is a beacon for human rights. Taiwanese people should uphold basic concepts of international human rights. The CCP can only boast, but why does a big country have no freedom of belief or human rights?"
Council member Hsiu Hu-yu said, "The safeguarding and improvement of human rights is an important indicator for a country's development. Only through respecting life can the global village remain in the harmonious and peaceful condition."
Assistant Professor Chen Jia-ping from National Chung Cheng University pointed out, "Speaking out is not only for Falun Gong, but an issue of conscience. Falun Gong is a cultivation practice. It is ridiculous for practitioners to be arrested. The CCP uses various means including defamation and economic interest to have many people keep silent. I call on everyone to speak up and support Falun Gong with your own conscience."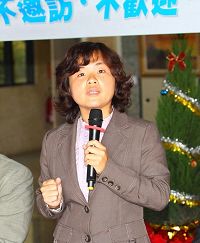 Resolution sponsor Chen Hui-wen
How can the resolution be implemented? Ms. Chen mentioned that the legislative committee and councils in the other seven counties and other cities have also passed the resolution. Every elected representative represents the wish of his constituents. We believe that local opinions will be heard by the central government. Ms. Chen emphasized that since the resolution was passed, the government should be expected to implement it.
Falun Gong practitioner Mr. Cheng Chi-mei said, "If such a resolution is implemented, it would be a strong deterrent for CCP officials violating human rights. They will not be welcomed or received when they visit other countries."
Since trade relations between Taiwan and the Mainland have thawed in recent years, quite a few CCP officials, such as Guangdong Governor Huang Huahua, Shanxi Province Interim Governor Zhao Zhengyong, Director Wang Zuoan of the CCP National Religious Affairs Bureau, and Hubei CCP Committee Secretary Yang Song, were sued for genocide and violations of The International Covenant on Civil and Political Rights on the same day they arrived in Taiwan. They followed Jiang Zemin in the persecution of Falun Gong and infringed on human rights.