Dr. Zhang Guangcai Subjected to Forced Labor for a Third Time--No Court Dares to Accept His Petition
Name: Zhang Guangcai (张广才)
Gender: Male
Age: Unknown
Address: Shahe City, Xingtai, Hebei Province
Occupation: Dentist
Date of Most Recent Arrest: September 20, 2010
Most Recent Place of Detention: Xingtai Forced Labor Camp (邢台市劳教所)
City: Xingtai
Province: Hebei
Persecution Suffered: Electric shock, sleep deprivation, forced labor, brainwashing, illegal sentencing, beatings, hanging by handcuffs, imprisonment, torture, force-feedings, extortion, physical restraint, home ransacked, interrogation, detention, denial of restroom use
Defense Attorney: Liu Zhengqing from Fulinguotai Law Firm in Guangdong
(Clearwisdom.net) Dr. Zhang Guangcai, a dentist in Shahe City, Xingtai, Hebei Province, was recently subjected to forced labor for the third time. His attorney filed an administrative petition but no court dared to accept the case.
Dr. Zhang is a native of Nanmancai Village, Xiedian Township, Guan County, Liaocheng City, Shandong Province. His father and son are also dentists. He and his wife, Ms. Zhang Xingfang, moved to Shahe City, Xingtai, Hebei Province in 1986. The family began practicing Falun Dafa in 1995.
Since the Chinese Communist Party (CCP) began persecuting Falun Dafa practitioners in 1999, the family has been repeatedly harassed.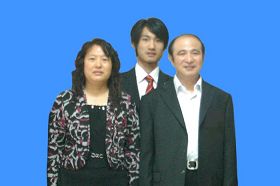 Dr. Zhang's Family
Sentenced to Two Years of Forced Labor after the First Arrest
In October 2000, Dr. Zhang was sentenced to two years of forced labor at Handan City Forced Labor Camp, because he appealed in Beijing for the right to practice Falun Dafa. He was tortured while in the labor camp. Guard Wang Xusheng kicked him and broke two of his ribs because he was helping other imprisoned practitioners.
Agents from the 610 Office repeatedly ransacked his home and office, and seized his cash, electronic appliances, and other property. Dr. Zhang's father and son were also arrested. His younger sister had to flee home for seven years to avoid further harassment after being brutally beaten. His younger brother, Mr. Zhang Guangbao, was imprisoned for more than six years. He was tortured in the prison and could not walk by himself when he was released.
Arrested for a Second Time
On the afternoon of June 6, 2004, Shahe City policemen Liu Tonglin, Yu Shuping, and others arrested Dr. Zhang at his office. The officers also arrested his wife and their son, Mr. Zhang Hualong, who had a national college entrance exam in a couple of days. Ms. Zhang was detained for three months. The officers broke into their home, seized 500 yuan in cash, and used vulgar language toward their daughter.
The officers took Mr. Zhang to the police department. They cuffed him to a metal chair overnight and restricted his bathroom use. Eight days later, they took him to a brainwashing center. There, agents punched him, kicked him, and shook his head to deprive him of sleep. He was held for three months and became emaciated as a result of being deprived of food.
Torture and Force-feeding after Third Arrest
On December 24, 2004, officers from the Shahe City Police Department arrested Dr. Zhang in his office. They took him directly to Xingtai Brainwashing Center. Officer Song Jiaxi handcuffed his hands behind his back and then shocked him with electric batons during an interrogation. Song told him, "If you are beaten to death, it will be counted as suicide."
Dr. Zhang went on a hunger strike, and as a result was brutally force-fed by Qiu Youlin, deputy director of the brainwashing center. In a couple of days, he had difficulty breathing, a constant cough, and pain over his entire body. A hospital exam showed that he had severe damage to his lungs. He was sent back to the Shahe City Police Department six days later. The police then sent him to Handan Forced Labor Camp, which refused to admit him due to his physical condition. He was then released.
Ms. Zhang was then subjected to one year and nine months of forced labor in Shijiazhuang City.
Subjected to Forced Labor Again after Fourth Arrest
Witnesses told Dr. Zhang's son that on September 20, 2010, Wang Jianjun and other plainclothes officers from the Shahe City Domestic Security Division arrested Dr. Zhang on his way to Shahe City Hospital, where his father was to be admitted due to symptoms of a stroke. His son immediately went to the police department and asked about his father's whereabouts. The police didn't admit to his arrest until his son pointed out that his father's red electric bike was in the police department compound. Hou Shouhong, deputy director of the division, said, "We don't need to inform the family because he was arrested for practicing Falun Dafa. He cried out, 'Falun Dafa is good' when we arrested him. That alone is evidence enough."
On September 27, Ms. Zhang received a mailed notification from the Shahe City Police Department. It stated that Dr. Zhang would be sentenced to one year and nine months of forced labor. It was dated as September 21, the second day after he was arrested.
Ms. Zhang hired attorney Liu Zhengqing from Fulinguotai Law Firm in Guangdong. Mr. Liu prepared the appeal document and went to Xingtai Forced Labor Camp to visit Dr. Zhang on October 9, 2010. Ning Hongjun refused to allow the visit, citing that Dr. Zhang had continued practicing Falun Dafa in the labor camp. Mr. Liu told him that the visit was granted by law, and that their denial was illegal. Ning went to see his boss. Wang, the camp's political commissar, along with a guard with identification number "1343099," came and warned that defending a practitioner was useless. Mr. Liu told them that this was not his first practitioner case. Wang said that he wouldn't block the visit if the prisoner were not a Falun Dafa practitioner, but Falun Dafa was a sensitive topic. He said that the labor camp was merely executing established policy. Without the approval of the 610 Office, there could be no visit. Mr. Liu said he would not contact the 610 Office because from his prospective, it was not a legal institution. Wang said that, in his position, he had to follow the orders of the CCP. Mr. Liu said that Nazi war criminals received death sentences, even though they argued in an international court that they had merely followed orders. Wang admitted that this was their first experience dealing with attorneys, and they didn't know what to do. They would decide only after reporting to their supervisors and an internal meeting.
Mr. Liu was allowed to visit Dr. Zhang two days later.
On October 12, 2010, Ms. Zhang presented an administrative complaint to the filing court in Qiaoxi Court, in Xingtai City. The court judge said that an administrative complaint should be reviewed by an administrative court. Ms. Zhang then went to the administrative court. Judge Shi Yuanshun was shocked when he realized a practitioner was suing the forced labor committee. He said that the matter was too big for him to rule upon. He then reported the complaint to the president of the court and the higher court. After twenty days, he still had not received any response, other than blame for reporting such a case. Judge Shi did not dare to accept or deny the case. He then told Ms. Zhang to file a complaint if she wished, but he would not act without authorization from his superiors.
So far, no government office has dared to accept the case.