Introducing Falun Dafa on Turkey's Largest Private TV Station (Photos)
November 20, 2010 | By a Falun Dafa practitioner from Turkey
(Clearwisdom.net) Since October 14, 2010, SHOW TV, the largest TV station in Turkey, has invited Falun Gong practitioners many times to an evening prime time show to introduce Falun Gong and demonstrate the exercises. The program received good feedback from the audience and through the program, the Turkish people have learned of the atrocities committed by the Chinese Communist Regime.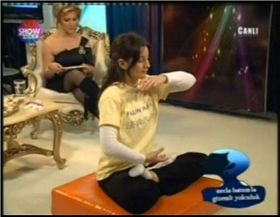 A Falun Dafa practitioner demonstrates the meditation exercise on SHOW TV, the largest private TV station in Turkey.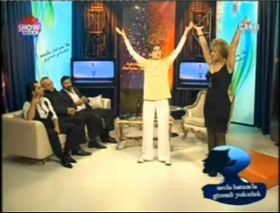 The host of SHOW TV (right) learns one of the Falun Gong exercises.
A Falun Dafa practitioner speaks about the persecution by the Chinese Communist Regime.
SHOW TV is the largest private TV station in Turkey. The program, "The Mysterious Journey" is hosted by famous talk show host Ms. Necla Batum. The program hosts interviews and discusses the mysterious and magical wonders and events in the world. It attracts a large audience.
On October 14, Turkish Falun Gong practitioners were invited to the show to introduce Falun Dafa. The practitioners spoke about their own experiences of both mind and body since practicing the exercises and studying the teachings.
The initial programs focused on the benefits of Falun Dafa and its principles. Then, last week, the practitioners began to expose the on-going persecution of Falun Gong in Communist China and the horrible crime of live organ harvesting from Falun Gong practitioners. The program let more Turkish people realize the evil nature of the Chinese Communist Party.
Host Ms. Batum said that the show's viewer ratings had been increasing since last month when Falun Gong practitioners were first invited and they received many calls from people after each show who wanted to learn the exercises and also from some who wanted to condemn the Chinese Communist Party; others wanted to see Falun Gong practitioners again the next week.
In order to meet the high demand, the TV station replayed the Thursday evening program again on other days.
The following link is the video script of the November 11 show with advertisements removed.
http://www.dailymotion.com/video/xflx9e_necla-batum-ile-gizemli-yilculuk-11-11-2010-1-bolum_people