Macao Falun Dafa Practitioners Expose Communist Party's Persecution (Photos)
November 20, 2010 | By a Falun Dafa practitioner from Macao
(Clearwisdom.net) On November 13 and 14, 2010, Chinese Premier Wen Jiabao came to Macao to attend the China-Portugal Forum. Local Falun Dafa practitioners rallied at the most bustling street in Macao for two days, calling on people of all walks of life to help stop the persecution and bring the Communist Party's head criminals Jiang Zemin, Luo Gan, Liu Jing and Zhou Yongkang to justice.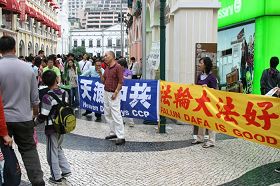 Falun Dafa practitioners clarify the truth to visitors in Macao.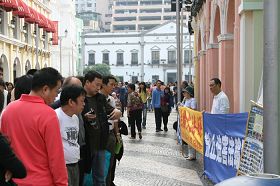 Visitors read display boards about Falun Gong and the CCP's persecution in China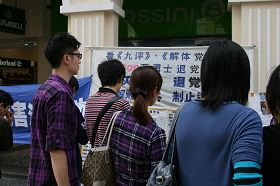 Young tourists from Mainland China want to learn more about Falun Gong.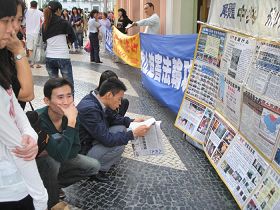 Chinese tourists squat down to read the display boards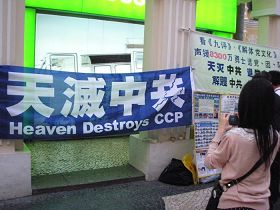 A tourist from Mainland China takes a video of a banner.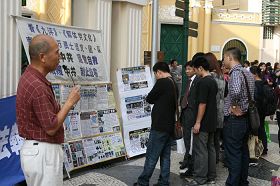 Chinese tourists read truth clarification materials and listen to the introduction.
A Falun Gong practitioner spoke at the rally and said that Falun Gong was introduced to the public almost 20 years ago and over 100 million people have benefited from the practice. Falun Gong improves health and lifts moral standards. However, former Chinese leader Jiang Zemin launched the persecution of Falun Gong in China in July 1999 and fabricated the Tiananmen Square self-immolation incident to paint Falun Gong in a bad light. Incomplete statistics show that more than 3,400 Falun Gong practitioners have died in the persecution and tens of thousands more have been jailed. The Chinese Communist Party harvests organs from living Falun Gong practitioners to sell for profit. As a result of their evil deeds, Chinese Communist officials have been sued in many countries all around the world.
Today, Falun Gong is practiced by over 100 million people in 60 countries. The main works of Falun Gong are available in over 30 languages.
During the weekend, about 100,000 Chinese tourists came to Macao for shopping and sightseeing; the Rose Plaza is a must-go tourist place. At the rally, many tourists stopped to listen to the speeches and took photos. Many visitors also publicly announced their withdrawal from the Chinese Communist Party and its affiliated organizations.
Some mainland Chinese tourists were surprised to see the banners such as "Falun Dafa is good", "Heaven Will Destroy the CCP" and "Stop the Persecution of Falun Gong" and other tourists would tell them, "You can see more Falun Gong banners in Hong Kong and Thailand." When the China-Portugal Forum was over, some of the communist officials came out to visit Rose Plaza. The practitioners passed the Nine Commentaries on the Communist Party books to them just like any other tourists. But they dared not to read them. You could see them looking out of the corners of their eyes at their companions and then quickly scanning the banners and display boards. You could feel the sadness and lack of freedom under the Communist Regime. Seeing this only made the practitioners more persistent to clarify the truth to the Chinese people and help them withdraw from the evil Communist Party.