Japanese Practitioners Denounce the CCP's Persecution During the 2010 APEC Summit (Photo)
November 18, 2010 | By a Falun Gong practitioner in Japan
(Clearwisdom.net) The 2010 APEC CEO Summit was held in Yokohama, Japan on November 12 -13. Leaders from 21 countries and regions, including the U.S.A, Japan and China, attended. Falun Gong practitioners in Japan continuously appealed in front of the parliament, raising people's awareness of the brutal persecution of Falun Gong in China.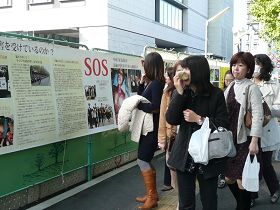 Falun Gong truth clarification display draws people's attention
A display about 30-meters long was placed in front of the parliament, detailing Falun Gong's popularity around the world, why Falun Gong is being persecuted, the Chinese Communist Party's (CCP's) atrocity of harvesting organs from living Falun Gong practitioners, the SOS international rescue efforts, and lawsuits against Jiang Zemin, the chief culprit in the persecution of Falun Gong, in international courts.
Passersby looked at the display, and expressed their support for practitioners.
A representative of the Japanese Falun Dafa Association said that the CCP has slaughtered 80 million Chinese people, and is carrying out a persecution campaign against Falun Gong practitioners, who believe in Truthfulness-Compassion-Forbearance.
He appealed to the Japanese government not to succumb to the CCP's economic coercion, but to help the Chinese people with universal values shared by democratic countries, uphold justice and help stop the CCP's persecution of Falun Gong practitioners--thus writing a completely new page for establishing a true friendship between Japan and China.