Australia: Practitioners Call for Bringing Zhou Yongkang to Justice (Photos)
November 14, 2010 | By Clearwisdom correspondent Yun Yun from Sydney, Australia
(Clearwisdom.net) At noon on November 12, 2010, Falun Gong practitioners in Sydney, Australia held a press conference in front of the New South Wales Provincial High Court to call on all circles of society to pay attention to the Chinese Communist Party (CCP)'s persecution of Falun Gong. A hearing on the lawsuit against Zhou Yongkang, Minister of Chinese Ministry of Public Safety and a major culprit in the persecution, was being held in the high court.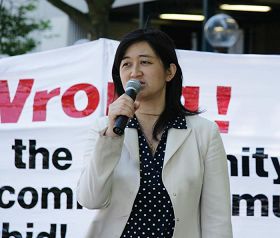 Lucy Zhao, Representative of Falun Dafa Association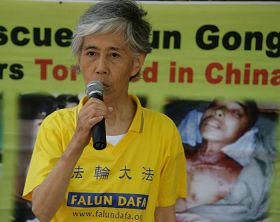 Plaintiff practitioner Ms. Changzhi Yue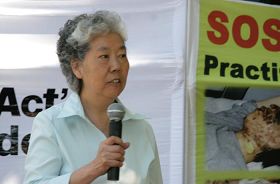 Plaintiff practitioner Ms. Jielin Li
The lawsuit was filed in November 2008 before a visit by Zhou Yongkang. Three Falun Gong practitioners charged the defendant for his crimes of genocide, crimes against humanity, and torture. Zhou is the former Secretary of the Chinese Communist Party's Sichuan Provincial Committee. The New South Wales High Court accepted the lawsuit.
Ms. Lucy Zhao, representative of the Falun Dafa Association said, "We mailed the lawsuit document to the defendant through diplomatic channels and received confirmation that the delivery was successful. If the defendant does not respond by the next hearing, the plaintiffs will seek a trial in absence of the defendant." She hoped that the Australian government would help Falun Gong practitioners as they cannot get justice in China. The brutal persecution is still going on. She encouraged the whole world to help stop the persecution and safeguard humanity, morality and justice.
One plaintiff, Ms. Jielin Li said, "Zhou Yingkang, the CCP's Secretary of Political and Judicial Committee, directly ordered the persecution of Falun Gong practitioners. The CCP is committing crimes. In China, hundreds of thousands Falun Gong practitioners are being persecuted. I was imprisoned for three years in Chongqing Women's Prison in July 2000 for practicing Falun Gong. Prison guards forced me to do labor for 14 hours a day and instigated inmates to monitor my sleeping position as designated. They beat me if I changed position. I was forced to make clothes, slippers, and bamboo blinds. If we did not finish our assigned quota, prison guards would punish us. My daughter Wang Wei and son-in-law Wu Hongbo were also imprisoned for practicing Falun Gong. Wang Wei was imprisoned for two years in a labor camp and later suffered three more months in a labor camp to receive brainwashing.
Another plaintiff, Jingxiao Chen, also disclosed her suffering in the persecution in China. She was imprisoned for two years for practicing Falun Gong. She suffered countless intimidation, punishment, and beatings with electric batons. Her expensive computer was confiscated. Her family member did not know her whereabouts for a long time. Her sister was imprisoned for three years for her belief in Falun Gong.
Another plaintiff, Ms. Changzhi Yue, 72 years old, was arrested in 2003 for practicing Falun Gong. Police ransacked her home and found pieces of paper containing the words, Truth-Compassion-Forbearance. For this she was imprisoned in Beijing Women's Prison for four years. She was forced to watch hate propaganda defaming Falun Gong. She was deprived of sleep and not allowed to go to the restroom. Prison guards attacked her. Once, nine people beat her while pressing her to the ground. Her teeth became loose. They pulled her legs to both sides to form a straight line, grabbed her collar, and then suddenly pressed her forward. A sharp sound came from her waist. She felt agony and fainted right away. After she woke up, they asked her, "Will you practice Falun Gong again?" When she answered "Yes.", they tortured her again and again. Her spine and left leg were injured and became deformed. Ms. Yue called on the Australian government to make a righteous ruling.
Falun Gong practitioners explain the facts to local people and practice the exercises on Queen's Square outside the New South Wales Province High Court every day, rain or shine. They believe that righteous forces will prevail over evil.