Germany: Falun Gong Information Day Held in Erfurt (Photos)
(Clearwisdom.net) On October 23, 2010, Falun Gong practitioners from the Tuebingen administrative division of Erfurt, Germany held an information activity day to introduce Falun Gong to the people there.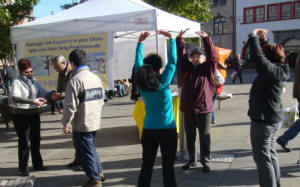 Demonstrating the Falun Gong exercises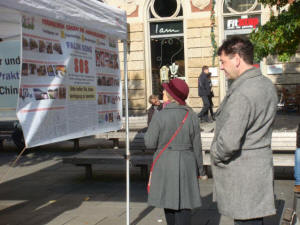 Pedestrians read the Falun Gong truth clarification display boards
Upon learning about the brutal persecution of Falun Gong practitioners in China, people expressed their shock. They earnestly read the Falun Gong materials, and many people signed the petition without hesitation to call for an end to the persecution.
Two young girls came to the exhibition table, and said that their aunt had told them about the Falun Gong activity and the persecution, suggesting that they also come to have a look. As a result, they hurriedly came to the exhibition table to sign the petition.
During the activities that day, from the time practitioners started to demonstrate the exercises, many people stopped to look. Drawn in by the gentle exercise music, one by one they requested to know more about Falun Gong, and learn and practice the exercises.
One old woman bought a copy of the German version of Falun Gong, and asked the practitioners on the scene to teach her the exercise movements. Many people asked where the practice site in Erfurt was. Therefore, a practitioner from Weimar planned to quickly set up a practice site in Erfurt.