Japan: Falun Gong Practitioners Participate at an International Festival in Tochigi (Photos)
October 08, 2010 | By a Japanese Falun Gong practitioner
(Clearwisdom.net) Falun Gong practitioners participated in an international cultural exchange activity in Utsunomiya, Tochigi, Japan. People from other countries and Japanese who are interested in other cultures, as well as foreign student organizations and friendship associations, gathered at this activity.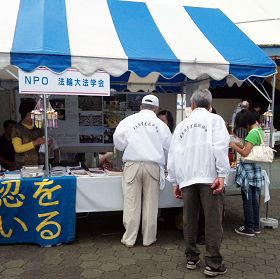 Falun Gong practitioners participate in an international cultural exchange activity in Utsunomiya, Tochigi.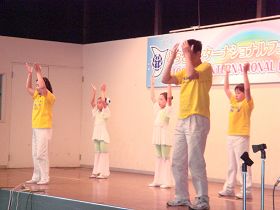 Practitioner demonstrate the Falun Gong exercises on stage.
Spectators copy the exercise movements.
It was the first time that Falun Gong practitioners had participated in this activity. The organizer of the event arranged a booth close to the stage for the practitioners to showcase this traditional Chinese cultivation practice.
It was a fine day. Many people were drawn to the activity and showed great interest in Falun Dafa. Some wanted to learn more about it and took print introductions and information about the local practice site. Visitors were amazed at the beautiful and elegant paper lotuses made by practitioners. Many learned how to fold paper lotuses and how to say "Falun Dafa is good" in Chinese. Everyone left with big smiles. Some Chinese people came to learn about Falun Dafa and they quit the Chinese Communist Party and its affiliated organizations. An American bought a Falun Gong exercise CD. He said that he had read Zhuan Falun before.
Practitioners demonstrated the exercises with narration on stage from 1:30 to 2:00 in the afternoon. Many in the audience copied the exercise movements along with the practitioners. The wonderful performances by Falun Gong practitioners, including a lion dance, fan dance, and Tibetan dance, fascinated the audience and won waves of applause. It was the best moment during the activity. A middle school student told a practitioner, "Falun Gong is so cool!" Some expressed their support of Falun Gong and said people shouldn't allow such a great cultivation practice to be persecuted in China.
The local Falun Gong contact person received several phone calls after the activity from people wanting to learn Falun Gong. The organizer of the activity thanked the practitioners for their contribution to lively atmosphere of the festival.