Asian Pacific Divine Land Marching Band Returns to Bali, Indonesia (Photos)
October 07, 2010 | By a Falun Dafa practitioner from Indonesia
(Clearwisdom.net) On October 3, 2010, the Asian Pacific Divine Land Marching Band was invited to perform at an event in Bali by the provincial government. A bomb attack on the island of Bali happened eight years ago. The local government hosted the commemorative event to restore confidence in the tourism industry.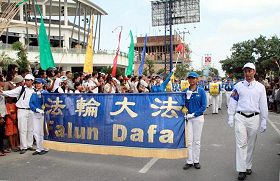 The Divine Land Marching Band performs in Bali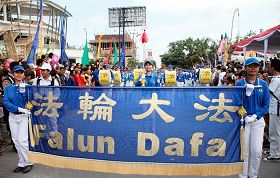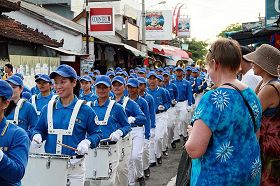 Bali is a popular tourism destination in Indonesia with beautiful beaches and unique local customs. It attracts thousands of tourists from all over the world every year. But the two terrorist attacks in October 2002 and October 2005 severely impacted its tourism industry.
Eight years after the first terrorist bomb attack, the Bali Provincial government invited 25 local groups to participate in an event. The event aimed to promote peace and unity and restore confidence in Bali as a tourist destination. The Asian Pacific Divine Land Marching Band performed at the event with 130 plus members who are all Falun Dafa practitioners. The band caught the eye of media and visitors with their orderly demeanor and attractive uniforms. Many spectators took out their cameras to capture the moment.
When the band passed the main stage platform, a western couple said they enjoyed it every much and were very happy. A Chinese couple was surprised to see such a large band of Falun Gong practitioners. Many Chinese tourists took photos.
The Asian Pacific Divine Land Marching Band brought the beauty of Falun Dafa to the people of Bali.