Japan: Utsunomiya City Festival Welcomes Falun Gong (Photo)
(Clearwisdom.net) On October 16, Falun Gong practitioners were invited to Utsunomiya International Center for the Utsunomiya City Festival. The practitioners demonstrated Falun Gong exercises and performed traditional Chinese culture programs. Utsunomiya is a beautiful city known for its soup dumplings. It is also the capital of Tochigiken county.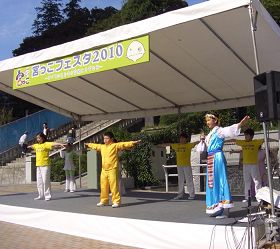 Falun Gong exercise demonstration
While Chinese Communist Party (CCP) spies called the international center in the name of Falun Gong to sabotage the Falun Gong demo, as the employees of the center know Falun Gong very well, the center still called the practitioners and invited them to perform at the festival. In addition, the demo was set at 12 p.m., the peak time of festival visitors.
The practitioners demonstrated the first four exercises of Falun Gong. As soon as the music started, many audience members, including children and adults, started to learn the exercises. There were also many people taking photos. After trying the first exercise, the host told a practitioner that the exercise was very powerful as he felt strong energy.
As the demonstration went on, some Chinese people in the audience also started to follow along with the practitioners' movements.
Besides the exercise demonstration, young practitioners of the Minghui Chinese School performed a lion dance, a flag dance, and a folk dance. The performance received warm applause. Some spectators later posed with the young practitioners for pictures as a souvenir.
Young practitioners later distributed Falun Gong truth-clarifying materials and paper lotus flowers at the site. The practitioners met two Chinese immigrants. After learning the truth about the the persecution, they both decided to quit the CCP and its affiliated organizations.
There was a government employee who reminded the practitioners to be cautious of their safety and be on guard against CCP harassment. He also expressed the wish to work with the practitioners and emphasized that Japan is a democratic country that respects freedom and human rights.
After the event, the organizer commented that the practitioners' performance was outstanding. Later on, the event committee called a local practitioner to express their appreciation and the wish to have the practitioners back next year.