Australian High School Students and Teachers Learn Falun Gong (Photo)
October 23, 2010 | By Minghui Correspondent Chen Xinning
(Clearwisdom.net) Falun Gong practitioners have been invited to the Multicultural Day activity at Beenleigh State High School in Brisbane, Australia for the past five years. On Oct. 15, 2010, practitioners were invited again to introduce Falun Gong exercises and the principle of Truthfulness, Compassion and Forbearance to teachers and students.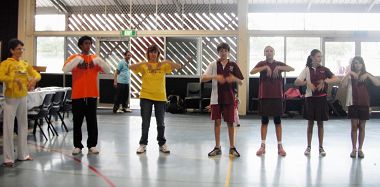 Falun Gong practitioners do exercises together with students on Multicultural Day.
Ever since Falun Gong practitioner Mr. Kong was hired by Beenleigh High School in 2006, he has been introducing Falun Dafa to other teachers and students at the school. Practitioners have been invited to participate in the school's Multicultural Day since then.
Falun Gong practitioners said students liked the five sets of peaceful exercises. "They all enjoyed the demonstration. The kids interacted with us and asked many questions. Many of them thanked us. Practitioners did exercises in a group during lunch break. Students came over to learn. The energy field was amazing for the whole day!"
Teachers and students also loved the cultural shows and activities provided by Falun Gong practitioners. Many kids asked for introductory brochures for their families and friends. One practitioner said, "It is a great day today! I am so happy to see many people learning that Falun Dafa is great!"