Taiwan: Falun Gong Practitioners Perform at Kaohsiung County Family Activity (Photos)
October 20, 2010 | By a Falun Gong practitioner in Kaohsiung, Taiwan
(Clearwisdom.net) The Mud Volcano Parent-Children Activity was held on September 26 and October 17, 2010 at the Mud Volcano Nature Reserve in Yanchao Township and at Sun Moon Temple in Tianliao Township. It was hosted by the Forest Bureau of the Executive Yuan. Falun Dafa practitioners were invited to give a performance as part of the activity. The magnificent performance of the Falun Dafa Tang Drum Team and Waist Drum Team made a big impression on the local people and many of them learned the Falun Gong exercises.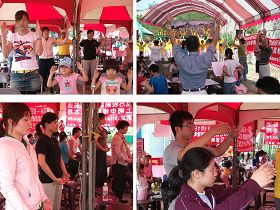 Residents of Kaohsiung County learn the Falun Dafa exercises
The purpose of the activity was to teach people about the characteristics and importance of the mud volcanoes and how to preserve the landscape. The material was presented through posters, paintings and games. Prizes were given out to those who correctly answered questions about the volcanoes.

The performance of the Falun Dafa Waist Drum Team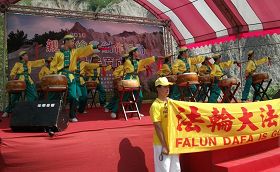 The Tang Drum Team
Falun Dafa practitioners were the only group invited to perform at the activity. The lively Tang Drum Team and the Waist Drum Team's performances greatly added to the warm and happy atmosphere of the activity. When the practitioners demonstrated the exercises on the stage, many of the activity staff and participants watched and learned the exercises. When people asked for more details about Falun Dafa, the practitioners introduced the practice to them and talked about how they have benefited from Dafa.