Mr. Li Zhigang in Critical Condition as a Result of Persecution at Hulan Prison in Heilongjiang Province (Photo)
October 16, 2010 | By a Clearwisdom correspondent from Heilongjiang Province, China
Name: Li Zhigang (栗志刚)
Gender: Male
Age: 39
Address: Baijiabao Residential Area, Nangang District, Harbin
Occupation: Unknown
Date of most recent arrest: February 28, 2009
Most recent place of detention: Hulan Prison (呼兰监狱)
City: Harbin
Province: Heilongjiang
Persecution suffered: Torture, beating, electric shocks, sleep deprivation
Key Persecutors: Wang Liguo, Ma Liang, Yan Xiaoshuang
Defense Attorney: Li Changming
(Clearwisdom.net) Mr. Li Zhigang's family received a Hulan Prison Hospital-signed notice about Mr. Li's critical condition on September 26, 2010. He was sent to the Hulan Prison Hospital on September 9 for emergency treatment because he vomited blood.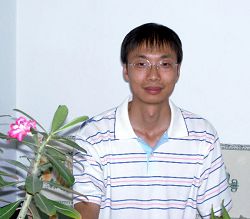 Mr. Li Zhigang
Mr. Li's family visited Mr. Li as soon as they knew he was hospitalized. Chen Weiqiang, a staff member from the Education and Reform Section, met with them and threatened them, saying, "Don't put this news on the Internet. There will be no visitation if you come with any Falun Gong practitioners." On September 25, Mr. Li's family went to visit Mr. Li again because they were worried about his physical condition. They talked to Chen Weiqiang and requested Mr. Li be released on medical parole. Chen denied their request. Mr. Li's family got to see Mr. Li that day. They learned that he had vomited blood six times in a week. His body was swollen, and his arms were very thin and he had anemia. Mr. Li was unaware that his family had deposited 1,500 yuan in his account to help him while in prison.
Harbin City 610 Office agent Li Shuxin illegally arrested Mr. Li back in February. Also participating in the arrest were Wang Liguo and Hao Xidong, heads of the Nangang District Domestic Security Division. The arrest took place on February 28, 2009 when they and Ma Liang, Li Zhijie, and others from Hexing Road Police Station broke into Mr. Li's home. They arrested him and seven of his friends, who were visiting him.
Wang Liguo, Zhou Songbin, Han Xiuwen and several other officials from the Domestic Security Division and from the Harbin 610 Office took Mr. Li to an undisclosed location in rural Jiangbei on March 8, 2009, where they brutally tortured him to force him to "confess" to crimes. They shackled him to a metal chair, and then yanked his arms upward from behind until he was sweating profusely from pain. They poured mustard water into his nostrils and beat and kicked him. He was taken to a detention center after three days of torture.
Nangang District Court head judge Yan Xiaoshuang, under instructions from the 610 Office, sentenced Mr. Li to five years in prison.
Mr. Li Zhigang was sent to Hulan Prison on December 9, 2009. The prison personnel put him in the Intensive Training Group, where Falun Gong practitioners are persecuted. Hulan Prison guards severely abused Mr. Li because he refused to give up his belief in Falun Gong. The torture included violent beatings and shocking with electric batons. Mr. Li was once ordered to stand in the corner for five days straight. He wasn't allowed to sleep, eat, drink, use the restroom, or talk. The guards often ordered the inmates to beat and torture Mr. Li.
Tian Yueqiang, Hulan Prison head: 86-451-57307301
Chen Weiqiang: 86-13159851233 (Cell), 86-451-57307338
Earlier report: http://www.clearwisdom.net/html/articles/2010/3/7/115187.html