Japan: Exposing the Persecution in China to Attendees of an International Conference (Photo)
(Clearwisdom.net) On October 11, Falun Gong practitioners from Japan spoke to attendees of the COP10 International Conference in Nagoya, Aichi Province about Falun Gong and the brutal persecution happening in China.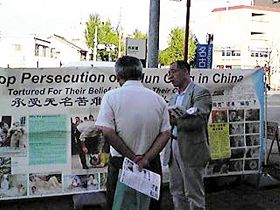 Clarifying the truth
More than 8,000 people from 193 countries and regions, including government officials and representatives of Non-Governmental Organizations, are attending the COP10 Biodiversity International Conference, which will last three weeks.
Falun Gong practitioners passed out English and Japanese truth-clarifying materials to the attendees. They also held banners which read "Help Stop the Persecution of Falun Gong in China."
Some attendees and local citizens talked to practitioners, asking questions about the persecution. The COP10 conference has just started. Practitioners hope that through this channel, more people from all over the world will learn the truth of Falun Gong.