Japan: Introducing Falun Gong at Saitama City Flower Festival (Photos)
(Clearwisdom.net) The largest festival in Saitama, Japan, the Flower Festival, was held on October 9, 2010. Many people came to appreciate the flowers despite the autumn rain. Falun Gong practitioners participated in the festival for the second year. Many people were attracted by the practitioners' exercise costumes, and asked when they would perform.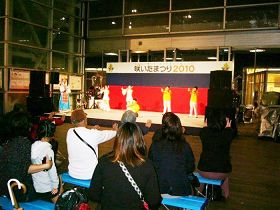 Audience members follow the practitioners to do the exercises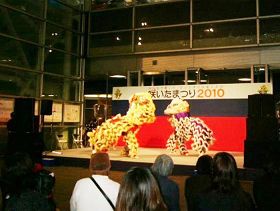 Practitioners perform Lion Dance and receive warm applause
During the exercise demonstration, many people in the audience followed the practitioners to do the exercises. They praised the young practitioners who performed the exercises. Other groups who participated in the festival's performance also warmly applauded and acclaimed the practitioners' exercise demonstration.
Practitioners also performed a Fan Dance, Tibetan Dance and Lion Dance, and received warm applause from the audience.