Falun Gong Practitioner Zeng Huaguo Murdered by Police in Shaodong County, Hunan Province within Six Days
October 14, 2010 | By a Clearwisdom correspondent from Hunan Province, China
Name: Zeng Huaguo (曾华国)
Gender: Male
Age: 57
Address: 100-101 Jiadiancheng Neighborhood, Shaodong County, Hunan Province
Occupation: Home appliance salesperson
Date of Death: August 25, 2010
Date of Most Recent Arrest: August 19, 2010
Most recent place of detention: Shaodong County Domestic Security Division (邵东县国保局)
City: Shaodong County
Province: Hunan
Persecution Suffered: Detention, beatings, home ransacked, interrogation.
Key Persecutors: Deng Jianhua (division leader at National Security Tea)
(Clearwisdom.net)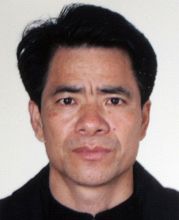 Falun Gong practitioner Zeng Huaguo
Mr. Zeng Huaguo used to put all his energy into running a business. He worked so hard that he eventually suffered tremendously from depression. After he started practicing Falun Gong in 2007, he became healthy and energetic. He did not have any diseases during the past three years, and his mind became peaceful and calm. He appreciated Falun Dafa for saving his life, and he used his own personal experience to show people that "Falun Dafa is good."
On June 21, 2010, when Mr. Zeng promoted Falun Gong to a person who happened to be a plainclothes police officer, he was arrested and detained at Songjiatang Detention Center in Shaodong County. At 11 a.m. on June 21, the police searched his home and took away his Falun Dafa books. His family members tried everything to rescue him. His son-in-law was forced to sign a guarantee statement. Ten days later, Zeng Huaguo was released.
After Mr. Zeng returned home, his family members were frightened by his detention and interfered with his cultivation a lot. He applied for a passport and saved 140,000 yuan to cover living expenses in a foreign country. However, his wife did not want him or herself to leave China.
On the morning of August 19, 2010, he went to Shaodong County National Security Bureau to ask for his Falun Gong books. Deng Jianhua, who was the squadron leader at Shaodong County National Security Brigade, arrested him. When his family went to the National Security Bureau, they were deceived by the police. They told the police that they did not know the whereabouts of the money that Zeng Huaguo had saved. The police wanted to track the money, and they tortured Mr. Zeng when they interrogated him. He called his family and told them not to mention the money to the police.
To get the money, the police tried everything to torture Zeng Huaguo. At 1 a.m. on August 23, 2010, he was transferred from Songjiatang Detention Center to the People's Hospital in Shaodong County. His family was not informed of the transfer. One day after Mr. Zeng was tortured to death, his family was informed: "He committed suicide in the hospital." Mr. Zeng's son noticed that there were wounds on his father's forehead that had been sutured. Two teeth had been knocked out, his ankles were broken, and there were wounds all over his body. Because there was a surveillance system in the hospital, Mr. Zeng's son told the state security police, "Find the hospital records to verify that it was suicide." The police lied, saying, "There are no cameras; they were removed a long time ago." They issued threats, and enticed Zeng Huaguo's family members, proposing to give them 260,000 yuan to close the case. Several days later Zeng Huaguo's son was shown a fuzzy video recording and told that his father had committed suicide at 5 a.m. in the hospital.
Persons that participated in the persecution:
Luo Wen, Director of the 610 Office in Shaodong County: 86-13973978648(Cell)
Long Yanyun, head of the National Security Team in Shaodong Police Department: 86-13807391788(Cell)
Peng Yuying, instructor: 87-13508426622(Cell)
Xiao Zhixiong, deputy head 87-13975902269(Cell)
Deng Jianhua, division leader (major perpetrator of the persecution): 86-13907392377(Cell)
Yang Xiuwen, director of the Police Bureau in Shaodong County: 86-13973961612(Cell)
Related article:
http://clearwisdom.net/html/articles/2010/9/6/119859.html