Fairfax, Virginia: Falun Gong Practitioners Meet Local Residents at Fall Festival (Photos)
(Clearwidom.net) With October 2 came the annual Fall Festival in Fairfax County, and the event attracted about 20,000 local residents. For the fifth consecutive year, Falun Gong practitioners presented an information booth to introduce the practice.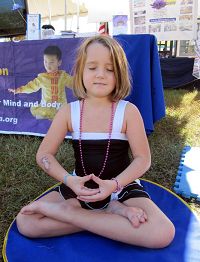 A young girl learns meditation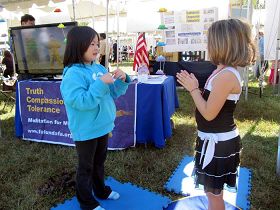 A young girl learns standing exercises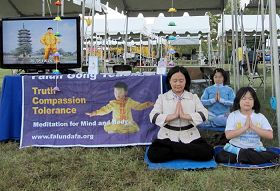 The Falun Gong booth
Many people who passed by the Falun Gong booth expressed interest in the practice. At one point, several children came to the booth to watch the Falun Gong exercise instruction video. A practitioner asked whether they wanted to learn the exercises, and they nodded. A 7-year-old little practitioner then taught them the exercises. All of them could do the double-lotus sitting position and one girl learned several of the exercises.
Later, a young Indian boy came and said that he wanted to learn the exercises. He also did the double-lotus position with ease while his father was viewing the booth. When the father learned that there are many schools in India teaching Falun Gong, he said that he would find out more on the internet.
When the event was about to conclude, a gentleman came and asked what music the practitioners were playing. He introduced himself as a musician, and said that the music brought him to the booth. The practitioners then told him how to download the Falun Gong exercise music for free.
The practitioners also prepared Chinese-language truth-clarification materials. When a young Chinese lady passed by the booth, a practitioner gave her some materials and showed her the book Zhuan Falun. She then said that she wanted to read it. After chatting with the practitioner, she said that she would read the truth-clarifying materials.
Several Chinese people told the practitioners that they read Falun Gong truth-clarifying papers weekly.
The practitioners had printed some information sheets with local practice site information, and they were all taken before the event ended.