San Francisco: Shen Yun Makes Chinese People Proud (Photos)
January 06, 2010 | By Minghui correspondent Su Qing
(Clearwisdom.net) On the evening of January 3, 2009, the Shen Yun Performing Arts finished its fourth show in San Francisco to warm applause. In the San Francisco Opera House, Shen Yun's benign and beautiful dances and music impressed and resonated with the audience.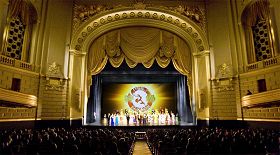 Shen Yun Performing Arts answers a curtain call in the San Francisco Opera House on January 3, 2009
Outstanding Choreography Makes the Chinese People Proud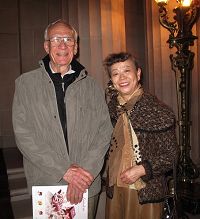 Former folk dancer Zhao Binbin (right)
Zhao Binbin used to be a performer in a professional folk dance troupe in southwest China. She came to the show with a friend. This was her fourth time to see the Shen Yun performance and she was glad to see a different show each time.
Ms. Zhao said that she had not seen anything like Shen Yun's shows for many years when she was in China. "The choreography is superb," said Ms. Zhao.
"The programs use dance to present stories based on Chinese historical events, which are brilliant. This show truly makes the Chinese people proud."
Ms. Zhao was also impressed with the professional skills of the artists. "They are so young but everyone of them can perform independently."
Overwhelmed Upon Seeing the Show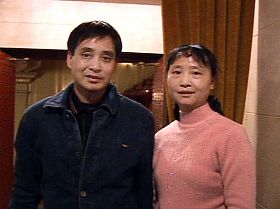 Mr. and Mrs. Chen from China
Mr. and Mrs. Chen learned about the show from advertisements in newspapers and on TV. They had heard good things about Shen Yun's shows even before they decided to come see it.
Mr. Chen tried to remember what he saw after the show, "I feel so overwhelmed! I have never felt like this before. I have not seen such amazingly beautiful costumes."
Mr. Chen especially liked "Wu Song Battles the Tiger" and "In a Miao Village" . "The artists show what real Chinese people are like," said Mr. Chen.
"The choreography clearly conveys the message of the stories. It's such a great show and very different from those I had seen in China."
"The artists have very good basic dancing techniques, very solid. I will introduce Shen Yun to people I know, especially those in China, and encourage them to go see it in Hong Kong."
"This is our culture and we cannot lose it."
Mr. Yu from Guangzhou brought his entire family to the show. "I love the dances. The costumes, dancing and music together made the performance very well-knit."
When talking about "Wu Song Battles the Tiger", Mr. Yu felt heavy in his heart, "Everyone knows who Wu Song is. This is our culture and we cannot lose it."
Mrs. Yu also adored the dancing and the costumes, "The traditional Chinese dances are really my favorites."
Wishing All Chinese People Could Have Seen The Show
Mr. Niu from China loved the performance so much and he saw three shows in two days! "Terrific" he said.
Niu said that all the programs are different from last year but they gave him the same good feeling and still passed on profound meaning. He believes seeing the show can change the way people think. "Those who get to see the show are fortunate. The whole world needs to see the show, not just the Chinese people."
Chinese People Should Preserve and Promote Traditional Culture
After the show, Ms. Zhong Lanying and her husband from China were considering going to San Jose, Shen Yun's next stop, to see it again.
Being Chinese, Ms. Zhong wanted to learn about Chinese culture and dances. "Shen Yun was great and I loved it. I will be back again and I am definitely telling all my friends and family about it. I might even buy tickets for them."
The Erhu solo impressed and touched Ms. Zhong. She realized how Chinese culture should be kept and promoted, even overseas.
Ms. Zhong's husband Joe said that show was splendid and he wanted to go to San Jose with his family and friends to see it again.
Shen Yun Will Be Very Welcome in Hong Kong
Ms. Wang was traveling in the US with her husband and they happened to catch the show in San Francisco. She loved "Nothing Can Block The Divine Path" because it tells a story that is currently happening in China. "My heart trembled when I saw the child taken away from the mother because of the persecution. I know from experience that Falun Gong practitioners are good people."
Ms. Wang said that what makes Shen Yun so special is that it is truthful. "Many art performances in China now are very superficial and shallow and carry no deeper meaning. I was surprised to learn that many of Shen Yun's artists grew up in the US and could still portray the Chinese culture so well."
In the end, Ms. Wang added, "I heard Shen Yun is going to Hong Kong. It will certainly be popular there. I will tell people in China how fantastic Shen Yun is!"