Falun Gong Practitioners Participate in Australia Day Parade (Photo)
(Clearwisdom.net) Jan. 26, 2010 was Australia Day, and the grand parade was the focus of attention among all Australia Day celebrations in Melbourne. People of different ethnic groups and communities dressed in colorful costumes paraded from busy Swanston Street to Alexandra Gardens. Parade spectators were dazzled by the mighty Divine Land Marching Band, and presentations of different culture.
The Divine Land Marching Band led the Falun Gong procession. Following the band were celestial maidens dressed in elegant Tang Dynasty costumes and a fan dance troupe. An outstanding "Falun Dafa" banner led the band. The powerful and majestic music won applause from thousands of spectators.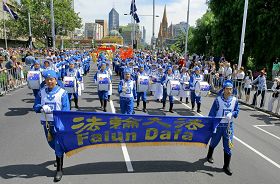 The Celestial Band led the Falun Gong procession at the Australia Day Parade.