China's Deputy Minister of Health Refuses to Talk About Illegal Organ Removal (Photo)
January 22, 2010 | By a Falun Dafa practitioner in Taiwan
(Clearwisdom.net) Huang Jiefu, China's Deputy Minister of Health, participated in an H1N1 prevention forum in Taiwan on January 19, 2010. Huang has been making public speeches about current situations, new regulations, and legal issues of organ transplants in China. When a reporter asked about organ removal from Falun Gong practitioners at the forum, Huang would not comment.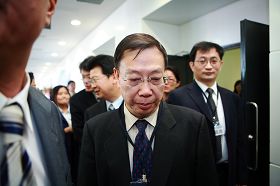 China's Minister of Health Huang Jiefu (middle)
The International Society for Human Rights Swiss section awarded the 2009 Human Rights Prize to David Matas and David Kilgour. Mr. Matas and Mr. Kilgour released a report. "Bloody Harvest," which described the crimes of the Chinese Communist regime in removing organs from Falun Gong practitioners while they are still alive.
French TV network TV5 quoted an NGO on January 7, that there are 300 concentration camps in China with 300,000 prisoners, with 150,000 of them being Falun Gong practitioners. All of the prisoners received comprehensive blood work, for matching potential organ buyers to the right "donor."
It is known that Huang performed a liver transplant in Xinjiang Autonomous Region in September 2005. It took him one day to match and ship two livers from Chongqing and Guangzhou. The stunning efficiency and speed of finding a matching organ is not uncommon in China.
A reporter asked Huang at the forum in Taipei, "In the investigation report of Mr. Matas and Mr. Kilgour it mentions that the Chinese Communist regime removes Falun Gong..." Before he could finish asking his question, a man cut in and told Huang it was time to go back to the forum.
Huang replied that he had explained the organ transplant policies and future plans at the International Congress of the Transplantation Society. Regarding to the removal of organs from living Falun Gong practitioners described in Mr. Matas and Mr. Kilgour's report, Huang said, "I do not wish to comment in front of the media. I am just a surgeon."
Huang was pulled away by a man beside him. When the reporter asked whether the CCP has answered the request from the UN Torture Committee and started to publicly investigate the facts of organ removal from living people, Huang did not answer. The men surrounding him took him into an elevator.