An Innocent Person Imprisoned
(Clearwisdom.net) Thirty-four-year-old Mr. Li Longji, a Falun Gong practitioner from Yanji City, Jilin Province, was arrested by Domestic Security Division agents on September 17, 2009. Mr. Li was interrogated under torture and is being held at the Yanji City Detention Center.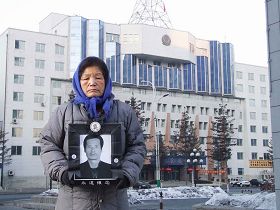 Mr. Li Longji's mother holds her late husband's photo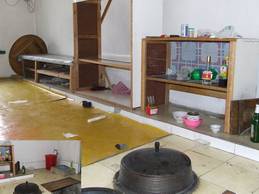 Mr. Li Longji's father's sparse rental quarters
Officials finally notified Mr. Li Longji's 77-year-old father and 72-year-old mother on December 10, 2009, that their son had been arrested because he practiced Falun Gong. Worried, they rushed to Yanji City from the countryside. They went to the Domestic Security Division in the Yanji City Police Department, to the city Procuratorate office, and the city detention center in hopes of getting their son released. Their efforts were futile. In addition, they met with humiliation and persecution tactics at the hands of the police.
They went to the Domestic Security Division on the eighth floor of the police department building and were informed by a police official that Mr. Li's case had been transferred to the city's Procuratorate office, and the division couldn't do anything without the file. The parents left, their mission unaccomplished.
They went to the 610 Office on the ninth floor of the same building and inquired about their son's arrest, stating that their son, Mr Li, practiced Falun Gong to be a better person and that there was no reason to arrest him. They asked for an explanation regarding his arrest and pleaded for his release. However, the 610 Office agent refused to answer any of their questions, offered no help, and said, "Your son is not here. We don't know what has happened to him."
When the older folks stopped by the city police department the second time, they were stopped at the gate. They tried to explain, but a verbally abusive female police officer kicked Mr. Li's mother, and yelled, "Get out of here!" Another police official eventually listened to their story and let them in. Officials from the Domestic Security Division and the 610 Office went into hiding as soon as they heard the older folks were coming. Facing the tightly closed doors, Mr. Li's father got upset and angry. He knocked on the doors repeatedly and shouted, "Hello, Longji, Father is here to see you. Can you open the door?"
The parents went from office to office during the following days as they had already, but they were were never given any useful information regarding their son's arrest and possible release. All they got was verbal abuse and evasive responses.
Mr. Li's elderly parents again went to the city Procuratorate office, hoping for answers about their son's release, but again in vain. They were frustrated yet again when they traveled to the detention center and asked permission to visit their son, who had been severely tortured. They were not allowed to see him, and were told they had to get permission from the Domestic Security Division leader, which was impossible because the division head was avoiding them.
Encountering nothing but stonewalling everywhere and having exhausted all possibilities, the disappointed older folks returned to the countryside, still worried about their son. Afterwards, Mr. Li's once-healthy father became ill, and his health progressively declined. The couple had four sons. One drowned, one died from liver cancer, and one suffered from mental illness. The imprisoned Mr. Li Longji was the only one left in the family who could care for his parents. Worrying about their son, they once again went to the city on December 20, 2009. After many attempts to get information about their son's current circumstances, the result was the same as before: no success. They had suffered so much emotional pain. Squatting in front of the city's Domestic Security Division offices, Mr. Li's father sobbed.
Mr. Li was wearing seasonally appropriate clothes when he was arrested in the fall. He did not have winter clothes. His parents brought winter clothes and food to the detention center and asked the guard to pass them on to their son, but even such a small favor was refused. Mr. Li's father could not tolerate this state of affairs any longer. He was sad and angry, and refused to eat or take fluids after they got home. He became very ill and died on January 2, 2010.
As the Chinese New Year approached, Mr. Li's mother, who is diabetic and has high blood pressure and heart problems, was alone and had no place to stay. Her relatives sent her to a nursing home. She ran away the next day and refused to go back, vowing to find her son. Her only hope is to live with her son.
According to insider information, the city Procuratorate officials have sent Mr. Li's case to the city court, and he may be sentenced for further persecution.
We call on all righteous people in the world to work together to stop this persecution of kind people! We call for the immediate release of Mr. Li Longji, as well as all unlawfully detained Falun Gong practitioners, so that they can return home to their families.
People involved in this persecution:
Jin Jingre, Jinyan City Police Department head: 86-433-2512839 (Office), 86-13843383300 (Cell)
Xu Xiaofeng, City Domestic Security Division head: 86-433-2521388 ext. 3041 (Office), 86-433-2623155 (Home), 86-13904438836 (Cell)
Pu Haizi, 610 Office Political and Judiciary Committee deputy head: 86-433-2518661 (Office)
Xia Xuecheng, Yanji City Detention Center deputy head: 86-13003345166 (Cell)