Dafa Practitioner Lai Jinming Arrested (Photo)
Name: Lai Jinming (赖金明)
Gender: Female
Age: 50
Address: Furong District in Changsha City
Occupation: Retired from Military 23rd Metal Corp
Date of Most Recent Arrest: December 29, 2009
Most Recent Place of Detention: Changsha City Detention Center (长沙市拘留所)
City: Changsha
Province: Hunan
Persecution Suffered: Forced labor, brainwashing, illegal sentencing, torture, home ransacked, interrogation, detention
(Clearwisdom.net) (By a correspondent from Hunan Province) Ms. Lai Jinming, from Liling Town, Hunan Province, enjoyed a peaceful and happy life with her husband and daughter after her retirement. Because of her belief in Falun Gong, and its central principle of Truthfulness-Compassion-Forbearance, her life was interrupted by the Chinese Communist Party.
On December 29, 2009, Ms. Lai was talking to people near Wuyidong Village Furong District, about the truth of the persecution of Falun Gong, when she was arrested by police from Chaoyang Police Station in Changsha City. She was transferred to the Changsha City Detention Center that same night where she is facing further persecution at the hands of the Chaoyang Police Station in Furong District, and the 610 Office.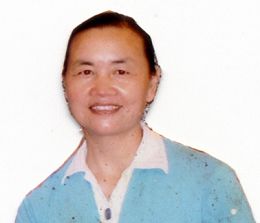 Ms. Lai Jinming
Ms. Lai began to practice Falun Gong in 1998 because she suffered poor health and had heard about the great results others had experienced by practicing Falun Gong. She found that after she began to practice the exercises, all symptoms of her kidney stones disappeared. She started to conduct herself according to the principles of Truthfulness-Compassion-Forbearance, and her personality soon changed from short tempered to patient and kind. She began to work harder and became more loving and caring to her family. Relatives all commented that she almost changed to a new person.
Ms. Lai worked as a room attendant at Riyin Hotel KTV. She had a very demanding job. Whenever she found a wallet or a cell phone after a guest checked out, she would take the lost item to the main desk immediately, so it could be returned to the guest. She follows the principles of Truthfulness-Compassion-Forbearance, in her daily life and those who know her all trust her and like her. People acknowledged the wonder of Dafa through her actions, and learned that the reports about Falun Gong in China's media were nothing but lies and false government propaganda.
Since the persecution began in July 1999, Ms. Lai has been persecuted numerous times. In August 2005, she was sentenced to Baimalong Labor Camp in Zhuzhou for the first time. She was sent to labor camp simply for talking to people about Falun Gong and the persecution.
March 20, 2008 was Ms. Lai's 49th birthday. She was arrested the next day by police from the Liuzhengjie Police Station in Furong District. Her "crime" was passing out material clarifying the truth about Falun Gong at the Hunan Province Art Institute. She was sentenced to labor camp for one and a half years. The perpetrators are personnel from the Liuzhengjie Police Station, Furong District Public Security Bureau, Changsha City Public Security Bureau Labor Camp Office and Furong District 610 Office.
Ms. Lai was released and went home in May 2009. She was only home for 6 months before she was arrested again. Her husband and daughter are extremely worried. They have trouble eating and sleeping, anxiously awaiting her return.
On January 2, 2010, Ms. Lai's family members went to the Chaoyang Police Station to inquire about her. When they asked when she would be released, a policeman with the last name Cao said, "If she meets the requirements, she will be released and able to go home. If not, she will be continue to be held here." Family members asked, "What requirements are you are talking about?" Cao would not answer the question. When they mentioned Falun Gong, Cao and several other policemen said that the true reason for her arrest is that they say it is against the law to practice Falun Gong. Yet no such law actually exists.
On January 3, 2010, Ms. Lai's family members again went to the Chaoyang Police Station. The police who handled the case called in Li Jieyu. When her family members asked Li when they planned to release Ms. Lai, Li simply asked, "How long was her sentence last time?" "One and a half years," was the reply. Li said, "So this time it it will be two years." Her family then said, "Falun Gong is practiced all over the world," but Li Jieyu threatened them, "If you say that again, I will order your immediate arrest."
Changsha City Chaoyangjie Police Station:
Li Jieyu, who handled Ms. Lai's case, (Police #013860): 86-13787090909(Cell)
Mo Dongping, who participated in the arrest (Police # 014340): 86-13973187039(Cell)
Changsha Detention Center: 86-731-84711211, 86-731-82207287, 86-731-82207285
Address: Huoju Village, Mawangdui, Furong District, Changsha City
Earlier report:
http://www.clearwisdom.net/emh/articles/2008/4/11/96349.html