Germany: 2009 Falun Dafa Cultivation Experience Sharing Conference Held in Karlsruhe (Photo)
(Clearwisdom.net) On December 28, 2009, a Falun Dafa Cultivation Experience Sharing Conference was held in Karlsruhe, Germany. More than 10 practitioners shared their experiences of looking inward, cooperating with fellow practitioners and harmonizing with family members. Many attendees expressed that they benefited from the speeches.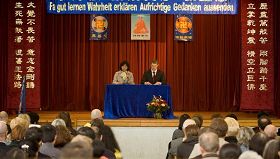 Ms. Cheng said: "I was deeply touched. I learned that other practitioners have bigger difficulties than I do, but they passed through them with solid righteous thoughts. I asked myself 'why cannot I do it.' One practitioner's sharing made a deep impression. She memorized the Fa and always sees problem based on the Fa. I was encouraged," she said.
Another Chinese practitioner said: "A practitioner who is an editor of Dafa website talked about how to get rid off the attachment to showing off. I learned something from him. I have the same problem. When other practitioners criticize my articles, I get mad. From that speech, I learned how to be objective and respect an editor's revision of my article."
Several practitioners talked about looking inward. Mr. Zhao said: "The speeches helped a lot. Most of them talked about looking inward. They don't complain about the fellow practitioners and try their best to cooperate with them. Although nobody is perfect, practitioners don't complain. They look inward and try to cooperate."
Vironica, a German practitioner expressed that practitioners' sharing help her realize that she has also been influenced by the communist culture, since she grew up in East Germany. She said she was brainwashed by the violent culture.
Ms. Zheng, an editor of German Epoch Times, said: "From a practitioner's sharing, I realized how important sharing with others is. That practitioner, who works for the Epoch Times, had encountered some difficulties, which other practitioners at the newspaper office also had. He passed the test and shared his experiences with others so that other practitioners didn't get trapped in this same problem, which help the newspaper's development. So, as a coordinator, I will arrange more time for sharing during our regular meetings, which will help us a lot."