Taiwan: Young Practitioners in Changhua Share Experiences at Group Study (Photo)
January 01, 2010 | By a practitioner in Changhua, Taiwan
(Clearwisdom.net) The Changhua Young Practitioners' Study Group was established on December 26, 2009. Local practitioners and some who came from out of town shared their experiences in the past year and together wished Teacher a Happy New Year.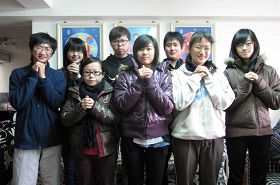 After Fa study, young practitioners in Changhua wished Teacher a Happy New Year.
There are not many in the group yet. Most of them learned about Falun Dafa from their parents, who are also practitioners.
Lin Jiayu is responsible for starting this study group. Lin has known about Falun Dafa for ten years, but she did not really start to practice until a while ago. She regrets wasting almost ten years. She is now a member of the Divine Land Marching Band. Though busy with schoolwork, she believes that she can balance her time and do well in both the practice and school.
Chiu Chunrong also learned about the teaching since when she was little. She has been to many Dafa activities with her mother. She was a bit rebellious as a child and did not really start practicing Falun Dafa until she was in college. After she started practicing, she was for a time confused about whether to continue or not. Then she realized that these doubts were not her true thoughts. She finally found her righteous thoughts that were hidden deep inside.
Hsu Baohsuan learned how to dance from her mother when she little. In the past few years she has been validating the Fa with dancing. Hsu said that she used to feel a lot of pressure when she lived with her parents. Now she goes to school away from home and is self-disciplined to study Dafa and practice on her own. She also shared about a car accident that happened when she was in elementary school. A car ran into her and she was thrown quite a distance. After the driver called an ambulance and the police, she got up from the ground herself and said "I am alright." The driver was shocked. She did not have the concept of being a practitioner, but growing up in a Dafa cultivation environment had given her righteous thoughts.
Lin Jiacheng is in his senior year in college. His mother learned about Falun Dafa when he was in high school and his whole family became practitioners since then. He watched his family go out every morning to do the exercises and read a golden yellow book at home. It made him curious and he began practicing Falun Dafa.
These young practitioners live in different towns and have their different Dafa projects. In the next study session, they will share their experiences in validating the Fa in different environments.