Japan: Truthfulness-Compassion-Forbearance Art Exhibition Held in Saitama City (Photos)
September 09, 2009 | By a practitioner from Japan
(Clearwisdom.net) The Truthfulness-Compassion-Forbearance Art Exhibition was held on August 21, 2009 in Saitama City, Japan. To date, the exhibition has been held 18 times in Japan.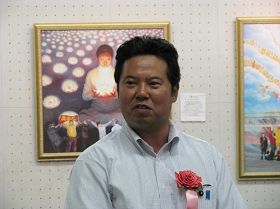 Member of Parliament for Saitama County
A Member of Parliament for Saitama County and the chair of the Falun Dafa Association of Japan hosted the opening ceremony.
The Member of Parliament said that the art works were beautiful and profound: "Persecuting Falun Gong is a crime against humanity. The artworks manifest the beauty of Falun Gong and practitioners' spirit. I admire those practitioners. I feel ashamed that many politicians and the public media don't dare to speak up for those who are being tortured, because of economic or other reasons. But I believe that, as time goes by, more and more people will pay attention to the persecution."
Many people came to the exhibition, including a number of visitors who had viewed it before. An older gentleman said that he had seen the artworks previously and that this time he had brought his friends.
An older Chinese man said that he had wanted to learn Falun Gong in China, but he was afraid of being persecuted.
A Japanese man that was going to visit China was shocked by the brutal persecution. He said, "The media have not covered this. Many Japanese don't know about the persecution in China."
Several parents took their children to the exhibition. The practitioners told them about Falun Gong and about persecution of the practice in China.
The art exhibition will be held in other cities in Japan.