Ms. Wang Xuchun Arrested and Abused in Police Custody (Photo)
Name: Wang Xuchun(王续春)
Gender:Female
Age: Unknown
Address: Unknown
Occupation: Unknown
Date of Most Recent Arrest: Aug.12, 2009
Most recent place of detention: Detention Center (看守所)
City: Yushu
Province: Jilin
Persecution Suffered: Force-Feeding
Key Persecutors: Niu Chunping(牛春平), Meng Dongzi (孟东子)
(Clearwisdom.net) (Correspondent from Jilin) Between 5 a.m. and 6 a.m. on August 12, 2009, while traveling to her hometown, Ms. Wang Xuchun was followed by officers from the Yuming Township Police Station. The police followed her to the home of her bother where officers Niu Chunping, Meng Dongzi, and Dong (first name unknown) arrested her. She was taken to the Yushu Domestic Security Division for interrogation and then detained at a detention center.
According to people who have been released from the detention center: "Guards force-fed Wang Xuchun until she was bleeding from the mouth and nose." Her clothes were also torn. Although she lost consciousness, the police did not release her.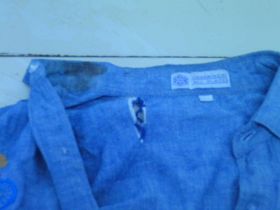 Bloodstains on the right collar are clearly visible. The back of the garment was torn, leaving a four-inch-long opening. The three buttons above were pulled off
Ms. Wang's younger sister, Ms. Wang Xufang, was arrested by officers from the Yuming Police Station on February 24, 2008. She was sentenced to a four-year prison term, and is now in Heizhuizi Prison. Ms. Wang Xuchun had been taking care of her sister's two young children before she was arrested. The two children have lost the care of their mother and also their aunt.
Niu Chunping, officer in Yuming Police Station: 86-431-83725111, 86-15981001122 (Cell)
Written on August 26, 2009