Malaysia: Rally to Support 60 Million Chinese Who Quit the CCP and Its Affiliated Organizations (Photos)
September 30, 2009 | By a Falun Dafa practitioner in Malaysia
(Clearwisdom.net) The Malaysia Service Center for Quitting the Chinese Communist Party (CCP) was officially established on September 27, 2009. The same day, the center held a rally at the Queen's Park in Kuala Lumpur to support the 60 million Chinese people who quit the CCP and its affiliated organizations .
The spokesperson of the Service Center called on Chinese people to quit the CCP, saying that it is Heaven's will to eliminate the Party.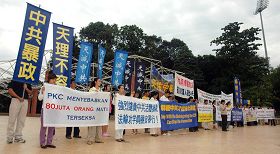 Rally in Malaysia to support the 60 million Chinese who quit the CCP and its affiliated organizations.

People learn about the CCP's atrocities.

Representatives announce the official establishment of the Service Center.
At the rally, Zhang Jie, an exiled poet and author from China, and Pang Xiaolei, a Christian, publicly announced their withdrawals from the CCP and its affiliated organizations.

Zhang Jie quits the CCP at the rally.
Zhang Jie said he has seen the barbaric nature of the CCP. "The CCP terrorizes the Chinese people. It has become the largest gang in China. It does nothing but make countless lies and commit crimes. People in China suffer miserably because of the CCP. In recent years, the CCP has openly persecuted human rights activists and dissidents. People's voices are completely blocked," said Mr. Zhang, as he announced his withdrawal from the CCP at the rally.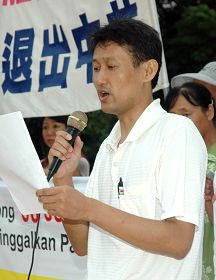 Pang Xiaolei at the rally.
Pang Xiaolei used to be an atheist, having grown up in Communist China. He used to belong to the CCP's military. He later became a Christian. To practice his faith, he had to leave China and seek political asylum in Malaysia. He read the Nine Commentaries on the Communist Party and recognized the evil nature of the CCP. Hence he came forward to publicly quit the CCP using his real name.
"As an ordinary Chinese person with a conscience, I quit the CCP and its affiliated organizations. I am no longer a hostage of the CCP, but a free man. This is my chance for rebirth," said Pang.
Pang said that he did not know the history of the CCP before reading the Nine Commentaries. He said, "In a few days, it will be China's National Day, the day that marks the 60th anniversary of the CCP's founding. The CCP brings the nation humiliation and grievance; it persecutes the righteous and slaughters the innocent, it tries to pretend nothing bad has happened by blocking the Internet and holding a joyous celebration. The CCP cannot fool me anymore and it is time for the Chinese people to awaken."
"From the Cultural Revolution to the June 4th massacre, the CCP has tried to stamp out democracy. The persecution of Falun Gong for the past ten years is unacceptably ruthless. Heaven is eliminating the evil CCP and only those who quit the CCP can ensure their safety."