Indonesia: Divine Land Marching Band Warmly Received on Bali Island (Photos)
September 30, 2009 | By a Falun Dafa practitioner in Singapore
(Clearwisdom.net) On September 27, 2009, a grand street parade, as part of the "Kuta Carnival 2009" was held on Bali Island, Indonesia. Falun Dafa practitioners from Singapore and Malaysia were invited to take part in the parade procession and received a warm welcome from the crowd.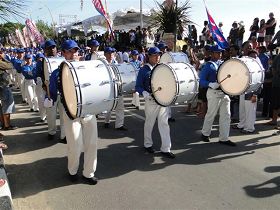 The Divine Land Marching Band performs for the crowd
The Asian Divine Land Marching Band performed on August 12, 2008, at Kuta Beach, the most beautiful beach on Bali and made a good impression on local people and tourists. Therefore, when the city government on Bali Island decided to host "Kuta Carnival 2009," the organizing committee invited the Divine Land Marching Band and the Falun Dafa Practitioners' Waist Drum Team to take part in the grand event.
Prior to the event, the Chinese Embassy in Indonesia pressured the organizing committee through the police authorities on the island, in an attempt to prevent Falun Dafa practitioners from participating. After learning about the persecution of Falun Dafa in China and the spread of the practice around the world, the organizing committee refused to comply with the Chinese Embassy's unreasonable demand and invited the Falun Dafa group to take part in the grand parade.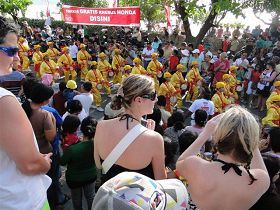 Waist drum team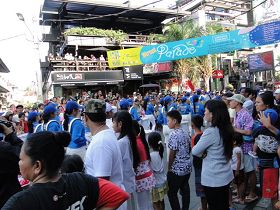 A crowd of spectators watching the parade
At 3:00 p.m. the Falun Dafa contingent led by a large banner reading "Falun Dafa" set off. Members of the Divine Land Marching Band in bright blue and white marched forward in sync and in high spirits. The band's performance received warm applause from VIPs at the guests' gallery and the thousands of spectators lined up on the seven-kilometer-long parade route.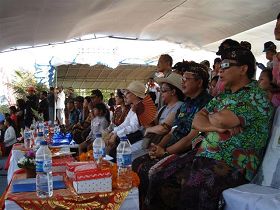 VIPs seated in the guests' gallery