Tokyo, Japan: Practitioners Hold Group Study, Practice and Experience Sharing (Photo)
September 27, 2009 | By a practitioner in Japan
(Clearwisdom.net) September 19 to 23, 2009 made up a five-day long weekend in Japan. Falun Gong practitioners in Tokyo and nearby regions held a group study, practice and cultivation experience sharing meeting.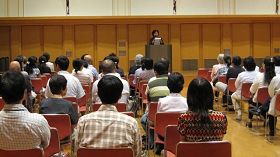 Falun Gong practitioners in Japan
On September 19, a group study was held to read Master Li's most recent published lecture. On September 21, a group practice was held in a park. On September 22, a small experience sharing conference was held in the morning. Six practitioners shared their cultivation experiences.
Two practitioners from Osaka shared their experiences in getting rid of attachments and improving Xinxing while promoting Falun Gong, exposing the persecution, helping people to withdraw from the CCP and its affiliated organizations, and selling tickets for Shen Yun performances.
Ms. Shen from Tochigi County was arrested in China for writing a letter to expose the CCP's crimes in carrying out the persecution of Falun Gong. She was sent to a forced labor camp for two years and suffered torture and various hardships. Five years ago, she came to Japan. She started to make phone calls to explain the facts and rescue fellow practitioners held in jails in China. For the last few years, she has called many people and departments to request a stop to the persecution, and asked people to withdraw from the CCP and its affiliated organizations. Many people, including police officers, judges, school principals, CCP secretaries, and even agents monitoring Falun Gong practitioners' activities came to know the facts and stopped participating in the persecution. Ms. Shen said that she was able to get rid of attachments such as fear, laziness and human notions in the process. Now she can use a computer to let people know about Falun Gong and the persecution, even though she has only a primary school diploma.
Several practitioners talked about their shortcomings in explaining the facts to Chinese students and other Chinese people in Japan, as well as high level Japanese officials. They pointed out that one should try his best to do better in the upcoming promotion of the Shen Yun performances.
One new Japanese practitioner shared his experience in the Chinese language. Eight years ago, he married a Chinese girl, a Falun Gong practitioner. Since then, he came to know about Falun Gong and the practitioners' pure and kind hearts. Last year he participated in promoting Shen Yun performances and started practicing Falun Gong.