Ms. Zhang Ying from Shanghai Arrested Again after Long-term Persecution
Name: Zhang Ying (张英)
Gender: Female
Age: 39
Address: South Street of Baoshan District, Shanghai City (上海宝山区南大路)
Occupation: Unknown
Date of Most Recent Arrest: September 8, 2009
Most recent place of detention: Detention Center of Changning District, Shanghai City (上海市长宁区看守所)
City: Shanghai
Persecution Suffered: Detention, Torture, Interrogation, Beatings, Physical Constraint, Electric Shock, Forced Labor, Force-Feedings
Key Persecutors: Wei Liguang (魏理光), Chen Hao ( 陈浩)
(Clearwisdom.net) (Correspondent from Heilongjiang Province) Falun Gong practitioner Ms. Zhang Ying was arrested on the morning of September 8, 2009, by police from the Changning District. She was at her mother-in-law's home, which was ransacked, and many personal belongings were confiscated. Ms. Zhang's parents-in-law questioned the police: "Why do you arrest her and ransack our homes for no reason? Do you have any legal evidence for doing this?" Officer Yang Ying replied, "We are arresting her for the purpose of interrogation--evidence will be produced later. Our responsibility is only to arrest her. The National Security Section of the Police Station of the Changning District will answer your questions."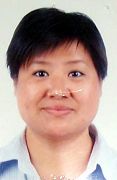 Ms. Zhang Ying from the Baoshan District of Shanghai
Ms. Zhang is being held in the Changning District Detention Center in Shanghai. This is the fourth arrest for Ms. Zhang. Because she practices Falun Gong, she was sentenced to forced labor for two and a half years in 2001. Not long after she was released from the labor camp, she was sent to a brainwashing center and then sentenced to forced labor for one year in 2005.
Ms. Zhang is 39 years old and lives on South Street in the Baoshan District of Shanghai. In September 2001 she was arrested for the first time and detained at the Shenzhuang Police Station of the Minxing Police Department in Shanghai. She was interrogated and mistreated nonstop for seven days. To coerce her to "confess," the police cruelly beat her, held her face against the ground, cuffed her hands behind her back, kneed her in the back, and dragged her up by the handcuffs. If she kept silent they would seize her hair and whip her with a leather belt. She refused to have her photo taken because she refused to acknowledge herself as a criminal. The police then bound her upper, middle, and lower body tightly and cuffed her hands so tightly that they became terribly swollen.
Later, Ms. Zhang was sent to the Minxing Detention Center. She was kept in handcuffs for two months without being released. Even when she was sent to the labor camp she were still handcuffed. During that time she went on a huger strike to protest the mistreatment. In response, the police handcuffed her to a metal window frame for 17 days. The guards hung her up with her arms pulled upward behind her back, and she was not released even when she needed to go to the toilet. The guards shocked her mouth with electric batons, put her in the same cell with collaborators, and forced her to perform heavy labor. After two and a half years of cruel mistreatment, she regained her freedom in March 2004.
In September 2004, six months after she was released from the labor camp, Ms. Zhang was arrested for the second time. When she went to the Dachang Police Station to report her residential status, she was detained by deputy police chief Yang. The police called agents from the local 610 Office to interrogate her, but she refused to answer any of their questions. The police then held her for 15 days in the Baoshan District Detention Center. She went on a huger strike to resist the detention. The prison guards brutally force fed her. They handcuffed her behind her back and and then to a metal door. They made her stand in water in her bare feet and forced a feeding tube through her nose into her stomach. At night, seeing that she was in a critical condition, the guards allowed her to sit in the water but kept her hands cuffed as they were. It was October and it was very cold and windy, but she sat in the water with the tube inserted through her nose. Her hands were in acute pain and she could not sleep through the night.
After many days of such abuse, she became so weak that she could not stand and had to lie on a wooden board. Because she almost took no food or drink every day, she became emaciated and was in bad shape.
Fifteen days later the police sent Ms. Zhang to a brainwashing center in the Qingpu District in Shanghai. She was dragged to a room on the second floor and thrown on the ground. At the time she had a fever and her face was gray. Five days later her parents and parents-in-law went to see her. Seeing her gray face and emaciated condition they could not help crying, and requested her immediate release. Her father suffered a stroke because he was so worried about his daughter. Officers from the 610 Office and the district, the local police station, the local residential committee, the police in charge of Falun Gong practitioners, and the chief and head of the brainwashing center showed up. They finally conceded and released Ms. Zhang.
On the morning of September 24, 2005, Ms. Zhang was arrested for the third time by 610 Office agents in the Baoshan District. They accused her of logging onto the Internet. In the detention center she went on another hunger strike to protest her arrest, for which she was sent to a prison hospital. Her elderly parents went to the detention center to ask for the release of their daughter many times, but the police simply dismissed them.
Later she was sentenced to one year of forced labor and sent to the labor camp of the Qingpu District. She was force fed because she resisted with a hunger strike. As a result, her health worsened significantly and she became weak and appeared to have the symptoms of hypertension and heart disease. Every day she ate very little food. When she was held in the second group of the labor camp, the guards forced her to sit straight on a small bench in the workshop for long periods of time. She had great difficulty keeping herself in a sitting position. She suffered spasms and fell into coma.
In September 2006 Ms. Zhang was released. Local police ordered her family to report her whereabouts to them at all times and dispatched someone to closely monitor her. Wherever she went, to her mother's home or shopping, she was always shadowed by a police car. Her family was constantly harassed, causing her elderly parents great anxiety.
The arrest of Ms. Zhang on the afternoon of September 8, 2009, was directed by the national Security Group of Changning District. Those directly involved in the arrest were Wei Liguang, a police officer from the Police Department of Changning District; Chen Hao and Yang Ying, officers from Xianxia Street Police Station; police from the national security group of the Baoshan District and Putuo District; police from Shiquan Police Station of Putuo District; and the secretary of the local residential committee.
Police Department of the Changning District of the Police Department of Shanghai:
Wei Liguang, from the National Security Section: 86-21-62906290×39461;
Xianxia Street Police Station of the Changning District:
Chen Hao, male: 86-21-23030272
Yang Ying, female: 86-21-23030279.