A Village Doctor Is Tortured in Shandong Province (Photo)
Name: Liu Yanmei (刘延梅)
Gender: Female
Age: 47
Address: Dagou Village, Puwang Town, Yinan County, Shandong Province
Occupation: Doctor
Date of Most Recent Arrest: May 23, 2006
Most recent place of detention: Shandong Province No.1 Women's Forced Labor Camp (山东省第一女子劳教所)
City: Jinan City
Province: Shandong Province
Persecution Suffered: Imprisonment, Torture, Physical Constraint, Beatings, Forced Injections, Brainwashing, and Sleep Deprivation.
Key Persecutors: Sun Juan (孙娟), the head of the Second Division of the Shandong Province No.1 Women's Forced Labor Camp
(Clearwisdom.net) (correspondent from Shandong Province)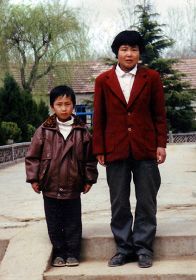 Ms. Liu Yanmei and Her Son
Ms. Liu Yanmei, 47, is a doctor in Dagou Village, Puwang Town, Yinan County, Shandong Province. On February 16, 2000, she was arrested at Tiananmen Square for appealing for justice for Falun Gong. She was taken to Yinan County's liaison office in Beijing. Then Puwang Town mayor Wang Anguo went to Beijing to escort her back to Yinan.
On the train back, she was handcuffed to the upper frame of the car. She was hanging at an angle and her feet could not fully reach the ground. She was tortured in this way the whole night and was not released until the train arrived at Puwang Town.
Ms. Liu Yanmei was then imprisoned at the Yinan County Detention Center. There she was brutally tortured by guard Liu Zhijie. He forced Ms. Liu to stand in a cell and put her arms through the small iron-framed window on the iron door. He handcuffed her hands from the outside and then pulled the handcuffs outward. Ms. Liu was pulled to the wall, causing her head to ram into the iron door. She was pulled numerous times and her head kept ramming into the iron door; she became dizzy and numb. The skin on her hands was cut and the handcuffs cut into her flesh. She shook under great pain. Liu Zhijie then took off his shoes and slapped her hands with them. Ms. Liu was bloodied.
Later Ms. Liu Yanmei was taken to the Dawangzhuang Township (now part of Puwang Town) Government Brainwashing Center. She was forced to sit on the cold floor during the day and beaten at night. Official Zhuan Qiande hit her head with a stick. He kept shouting at her while hitting her head. Ms. Liu fainted. When she woke up, she had brain damage and suffered from partial memory loss.
She was taken home. All day long, she would just sit quietly without any emotions or words. She would not eat or drink. Her husband was frightened. He knew that only Falun Dafa could save her again (she had had incurable illnesses and was saved by Falun Dafa in 1999 - see story below). So he gave Dafa books to her. Ms. Liu Yanmei repeatedly looked at Zhuan Falun and flipped through the pages. And finally, she was able to read the characters in Zhuan Falun and she started to regain her memory. She asked her husband how long she had been like this. It had been six months.
After Ms. Liu Yanmei recovered, she kept telling people her story. But she was then arrested and taken to the Shandong Province No.1 Women's Forced Labor Camp at Jinan City for telling the truth. There, she was tortured brutally by the guards. Within a month, she was in critical condition and pronounced as being on the verge of death by the doctors at the Jinan Armed Police General Hospital in Shandong Province. Afraid of being held responsible for her death, the forced labor camp released her. After returning home, Ms. Liu Yanmei continued doing the exercises and studying the Fa. She gradually recovered.
On May 23, 2006, Ms. Liu Yanmei and Ms. Du Yonglan, a Falun Gong practitioner from Jinquangou Village (then Donggou Village), Puwang Town, went out to distribute truth-clarification materials. They were arrested at the Chengzi Village section of the Yingyi Road by the police from the Hutou Town Police Station, Yinan County. At the detention center, Ms. Liu was taken to the hospital for forced injections of unknown substances many times. She became very weak. On May 30, 2006, Ms. Liu was sentenced to three years of forced labor and taken to the Shandong Province No.1 Women's Forced Labor Camp. She was brutally tortured and was subjected to brainwashing at the second division of the forced labor camp. She endured the following:
"Exhaust the Eagle" (see details of this torture method at: http://www.clearwisdom.net/emh/articles/2002/2/3/18368.html). She was tortured with sleep deprivation for shouting "Falun Dafa Is Good." At first, she was forced to stay up for the whole night. Later she was forced to stay up until the early morning. She was tortured with this method every night until she was released in June 2009. However, in the camp records, the guards falsely wrote: to bed at 10 p.m., and up at 6 a.m.
Hunger Torture: The head of the Second Division, Sun Juan, tortured Ms. Liu Yanmei by starving her. Sun gave orders for her not to be given food for two days. From November 17, 2006 until March 20, 2007, Ms. Liu was given very little to eat and she was constantly hungry. Even though she was given no food, guards Sun Juan and Sun Qunli ordered the inmates to record that Ms. Liu ate a lot of food every day.
Mouth Taping: Because Ms. Liu Yanmei refused to give up her belief in Truthfulness-Benevolence-Forbearance, she was tied on the "Dead Person's Bed" (see details of this torture method at: http://www.clearwisdom.net/emh/articles/2004/12/15/55600.html) for a long period. After she shouted "Falun Dafa Is Good," the guards taped her mouth shut. They wrapped the tape around her head and over her mouth more than a dozen times. When the tape was removed, her hair was yanked out by the tape.
As Ms. Liu Yanmei refused to wear the inmate uniform, the guards tied her to an iron chair and taped her mouth. She was tied to the chair for nine days. Her legs and feet swelled terribly. She could feel pain in her legs and feet during the first two days, then they became completely numb.
Restricting Bathroom Use: The guards would not allow Ms. Liu to go to the bathroom. She was forced to discharge in her pants. Her body and the room had a horrible stench.
Ms. Liu's husband went to the forced camp three times, wanting to see her, but he was denied access. The third time, the guard yelled at him, "Don't even think about seeing her unless she agrees to be transformed."
Ms. Liu Yanmei's father passed away in 2008. When her family called the forced labor camp to inform her about the sad news, the guard lied to her family, "She has escaped. We don't have her here." Then her family had to worry about her whereabouts on top of the great sorrow of her father's death.
Why does Ms. Liu Yanmei insist on her belief in Truthfulness-Benevolence-Forbearance even though she has been tortured so badly so many times by the Chinese Communist Party's regime? The answer starts with the immense physical and spiritual changes she underwent after beginning the practice of Falun Gong.
Ms. Liu Yanmei fell into a well when she was young. Although she was saved, her lungs were damaged. She had a severe cough and she could not bear the cold. Gradually she lost her strength, had chest tightness and breathing difficulties. She vomited blood three or four times each day. She was diagnosed with lung disease, heart disease and emphysema by doctors at several hospitals in 1988.
At the end of 1998, her diseases worsened. Her sternum pectorale became disfigured as well. She could only lie down half-way or sit. At the county hospital, the doctor told her husband that her illness was so severe that the hospital could not save her. It was time to celebrate the Chinese New Year, but her husband had to prepare for her funeral. She was only 37 then. Her family was in great sorrow.
On February 16, 1999, when Ms. Liu Yanmei was hopelessly waiting for her final days, a Falun Gong practitioner in her village brought her the book, Zhuan Falun. Ms. Liu was too weak to hold the book or read. Her husband read the book to her. Then Ms. Liu wanted to go to the exercise site, but she could not walk. Her husband carried her there. After being carried to the exercise site four times, Ms. Liu Yanmei was able to take care of herself. She could wash her clothes and cook, becoming a completely new person!
Dagou Village Party Secretary Wang Anchen: 86-539-3528358 (Home)
Manager of the Yinan County 610 Office, Li Xiaofeng: 86-13854959994 (Cell)
Head of the Yinan County National Security Team, Ma Chenglong: 86-13573945281 (Cell)
Deputy Director of the Yinan County Public Security Bureau and Director of 610 Office, Xue Yunbo: 86-13605497379 (Cell)
Original article: September 13, 2009