Ms. Wei Xiuying Had to Be Carried Into Court as a Result of Being Brutally Tortured (Photo)
(Clearwisdom.net) (Correspondent from Liaoning Province) Ms. Wei Xiuying, a resident of Linghai City in Liaoning Province, was severely tortured while in police custody, and as a result, had to be carried into the local courthouse when she was to stand trial. The presiding judge later sentenced her to seven years in prison.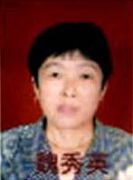 Ms. Wei Xiuying
At 6:00 a.m., on April 17, 2009, officers from both the Jinzhou City Police Department in Liaoning Province and the Linghai City National Security Division stormed into Ms. Wei Xiuying's home in the Jincheng Region, Linghai City.
Ms. Wei was arrested along with her oldest daughter Ms. Zhao Hong, her second daughter Ms. Zhao Bing, and her husband (who does not practice Falun Gong). They were all taken to the National Security Division office and interrogated there. Eight hours later, everyone was released except Ms. Wei.
In the last week of July 2009, Ms. Wei was scheduled to stand trial at the Linghai City Court, even though she was critically ill and had to be carried into the courtroom, with a portable oxygen device by her side. The presiding judge, Li Daming, and Wang Xin, the deputy director of the court, ended the trial in a rush when they realized that Ms. Wei could not stand nor speak as a result of being tortured.
On August 7, 2009, Li Daming went to the Linghai City Detention Center and tried to force Ms. Wei to stand trial, even though she was still in critical condition and wasn't very coherent. In desperation, Li and Wang went to the home of Ms. Wei's brother and sister the next day, and told them, "Since your sister is very sick, you need to sign for her. After she is sentenced tomorrow, you can help her apply for medical parole and then she will be sent back home." Knowing that Ms. Wei's eldest daughter, Ms. Zhao Hong, is a Falun Gong practitioner, Li and Wang told them not to bring the subject up with her.
The brother and sister believed what they were told and signed for Ms. Wei. After Ms. Wei was sentenced to seven years in prison, they went to visit Wang and asked for her release. But Wang slyly replied, "What is an oral agreement worth? Nothing." It was at that moment that the family realized that they had been deceived. Ms. Wang now requires around-the-clock oxygen support just to stay alive. The family is expected to file an appeal with the Jinzhou City Middle Court.
When the family was first arrested on April 17, 2009, the second daughter, Ms. Zhao Bing, 23, was awoken by two officers who wrapped her up in a quilt and dragged her to a police vehicle. When she was taken to the National Security Division, she was handcuffed, verbally abused, and then locked in a room alone.
After being released, Ms. Zhao became very depressed and did not feel like eating or drinking anything. She eventually lost 30 pounds and cried every day, missing her mother.
Related articles: Ms. Wei Xiuying in Critical Condition Due to Torture, http://clearwisdom.net/html/articles/2009/6/12/108230.html;
Ms. Wei Xiuying from Linhai City, Liaoning Province, In Danger of Losing Her Life Due to Persecution, http://clearwisdom.net/html/articles/2009/8/7/109837.html