Ms. Li Chenghua Sentenced to Forced Labor for Appealing on Behalf of Her Brother
(Clearwisdom.net) On August 19, 2009, Ms. Li Chenghua from the Fengrun District in Tangshan City, Hebei Province, was illegally sentenced to two years of forced labor. She had been protesting her brother's arrest and had been forewarned not to appeal for her brother, Li Chengshun.
Mr. Li Chengshun, 46, used to be a security guard at Tangshan Trolley Bus, Inc. He has been persecuted numerous times because he practices Falun Gong. He was arrested again on February 26, 2009, and sent to the No.1 Forced Labor Camp (Kaiping Forced Labor Camp) on March 27, 2009. When his employer unilaterally terminated his work contract, his family hired a lawyer and brought the case to the Labor Committee, attempting to protect Mr. Li's legal right to work.
On August 11, 2009, his family and lawyer went to the court to appeal to the defendant, Tangshan Trolley Bus, Inc., who sent two representatives. During the hearing, the Labor Committee wanted the two sides to talk to each other and solve the problem between themselves, but the bus company insisted on having the court mediate. A decision is expected to take two months.
The person that initiated the Mr. Li's dismissal was Ms. Hou Baofeng, the Party committee vice secretary and also the chairman of the union of Tangshan Trolley Bus, Inc. After Mr. Li was sentenced to forced labor for practicing Falun Gong, she ordered the termination of his contract. After the lawyer and family appealed in court for Li's legal rights, Hou got embarrassed and began to persecute the sister, Li Chenghua, who had been appealing for her brother.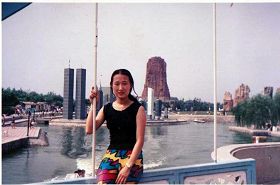 Li Chenghua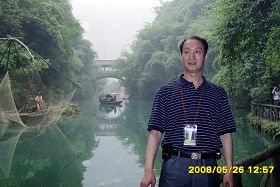 Li Chengshun
The persecution of Mr. Li Chengshun
Li Chengshun, born in April 1963, worked in the security department at Tangshan Trolley Bus, Inc. He began to practice Falun Dafa in October 1994 and was the first practitioner sent to a detention center in Tangshan City because of his belief. On July 23, 1999, he was at work when his company security department cooperated with the Tangshan City Xin District 610 Office to arrest him. He was in the Tangshan Detention Center for 15 days on a trumped-up charge of "interfering with the law and disturbing the social order."
In December 2000, his wife, Yan Xiufeng, was arrested and sent to a forced brainwashing session involving torture. The perpetrators included the staff where she worked, the Tangshan Xin District Food Bureau, and local 610 Office personnel. Shortly after, their home was raided, personal belongings were confiscated, and Mr. Li was forced to leave home to avoid persecution and subsequently became homeless. The local police and the security department staff frequently monitored his house, hoping to catch him at home, while other security staff searched railroad stations and even sent people to Beijing's Tiananmen Square to look for him. When he went to his father-in-law's home, he was arrested and taken to a brainwashing session inside Tangshan's Spin and Weave College.
In December 2001, when Mr. Li went to the home of fellow practitioner An Zhenjie, police from the Xin District and the Fengrun County District arrested them and raided the home. While he was detained, he began a hunger strike, and five days later he was released to his employer.
On March 5, 2002, when he was at work, the director, Wu Donglai, asked him to come to the office. He was then ambushed by four officers from Kaiping Subdivision Police Station, and his home was raided again. After he was taken to the police station, they began to question him using torture. He was then held in No. 1 Detention Center for over eight months. Director Chen Yongwen of Kaiping Subdivision Police Station extorted 10,000 yuan from Mr. Li's family and released him to his employer.
When the 2008 Olympic torch passed through Tangshan, CCP officials intensified the persecution of Falun Gong practitioners, and so Li Chengshun was forced to leave home again.
On February 26, 2009, he was at his friend's home when officers from Kaiping Public Security Subdivision and Majiagou Malu Police Station broke into the home and arrested him. He was taken to Malu Police Station, and a digital camera and 3,000 yuan on him were confiscated. Five policemen in the station beat and shocked him with electric batons. He was covered with wounds and did not recover for four weeks. On March 27, 2009, he was taken to the No.1 Labor Camp in Hebei Province (Kaiping Labor Camp) for two years.
April 7, 2009, was family visiting day. When his family and lawyer went to visit him, the labor camp officials put forth all sorts of reasons to not let them see Li Chengshun. After some pressure they finally let the family visit him, but they did not permit his lawyer to see him..
On June 10, 2009, his lawyer went to visit him again. The guard refused to let him visit, saying, "There is an order that you cannot visit him." The lawyer asked, "Where is the order? Is there any documentation?" The guard replied, "No documentation--it is a verbal order." In order to verify the fact, the lawyer made several phone calls to the authorities, but no one answered.
The persecution of Ms. Li Chenghua
Li Chenghua, 37, was working at Jidong Pharmacy Factory before she was sent to a forced labor camp in 2000 because she refused to give up Falun Gong. After her sentence ended, she made a living making popcorn.
On August 5, 2009, around 7 p.m., a plainclothes police officer went to her popcorn booth and asked for a flyer on the persecution Falun Gong. She told him the facts about Falun Gong and gave him two flyers. Shortly after, seven to eight officer took her to their van. They raided her home around 8 p.m., took two Falun Gong CDs, and took her to Fengrun Detention Center.
On August 19, 2009, Ms. Li Chenghua was sentenced to two years in Kaiping Forced Labor Camp.
Their mother, who is in her 70s, is taking care of two of her grandchildren. One just graduated from elementary school, while the other has just started second grade.
The institutions and people responsible:
Tangshan Trolley Bus, Inc.
Party Committee Vice Secretary, Chairman of the Union Hou Baofeng: 86-315-3089003, 86-315-2232188, 86-13903250128 (Cell)
Security Department:
Director Wu Donglai: 86-13703253927(Cell), 86-315-3231895
Party Secretary Gang Xin: 86-13831545463(cell), 86-315-3233087
Director of 610 Office Li Huashan: 86-13603252765(Cell), 86-315-3246938
Tangshan City Security Bureau 610 Office
Zhou Jinglin: 86-13832980005(Cell), 86-315-2530002(Office), 86-315-2236588( Home)
Tangshan City Security Bureau Director Zhou Jianshun: 86-13832981523(Cell),
Fengrun District Public Security Subdivision Vice Director Li Chunyuan: 86-315-2534658(Office), 86-315-5188068(Home), 86-13832987098(Cell)
Tangshan Fengrun District Detention Center:
Director Song Dianchun: 86-13832985269(Cell)
Vice Director Wu Yuliang: 86-13803313070(Cell)