Belgium: Many People at Bokrijk Festival Express the Wish to Learn Falun Gong (Photos)
September 13, 2009 | By a practitioner in Belgium
(Clearwisdom.net) The summer festival that takes place in Bokrijk, Belgium once every two years - the "World Festival" -- took place this year during the last weekend of August 2009. The main topic for this year's World Festival was "Life and Work." There were musical events and other entertainment, and activities to do with the environment and health, as well as activities related to protecting life. Over 100 organizations contributed to the festival, with many information tables addressing those themes, to encourage people to enrich their lives and to better understand their living environment. Falun Gong practitioners were invited to take part in this year's festival.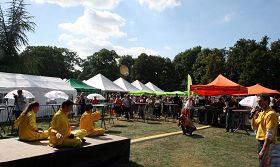 People watching the Falun Gong exercise demonstration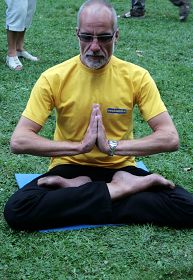 A practitioner doing the sitting meditation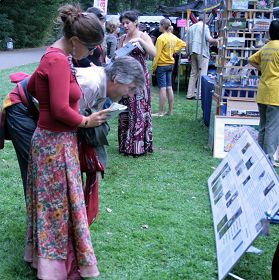 Reading the informational materials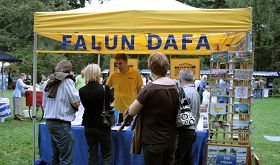 Learning about Falun Gong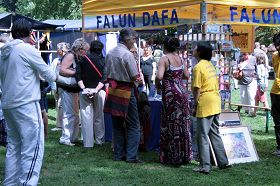 Many people visited the Falun Gong tent
Under a cloudless sky, on the green lawn, the festival atmosphere was exciting and full of vitality. The Falun Gong practitioners set up a tent near the entrance to the festival grounds. There was a display of informational materials about the practice's benefits to the mind and body, as well as information exposing the persecution that is happening in China.
As soon as they came through the entrance, many visitors were drawn by the practitioners' graceful exercise demonstration. Throughout the event, people read the materials on the display boards, talked to practitioners, and took the available materials. A woman who works in the public health sector feels that the Falun Gong exercises and the principles of Truthfulness-Compassion-Forbearance are very beneficial to society. She asked the organizer of the Falun Gong activity whether she would be willing hold a Falun Gong exercise class in the community center.
One man introduced himself as a Buddhist. He had been to India and Japan to look for a cultivation method that suits him. He is currently a member of group which has meditation as its main activity. He said that he thought that Falun Gong is very good, and he invited the practitioners to visit his organization to introduce Falun Gong.
After a young woman saw the exercise demonstration, she asked a practitioner for more information about Falun Gong. She was very happy to receive a copy of Zhuan Falun.
A number of people asked about where they could learn the Falun Gong exercises. Practitioners gave them information about the practice times and locations for each city.