Germany: Chinese Tourists Begin to Think at Leipzig Falun Dafa Information Day (Photos)
(Clearwisdom.net) On September 5, 2009, Falun Gong practitioners held an information day in downtown Leipzig, a city in the eastern part of Germany, to introduce Falun Gong (also known as Falun Dafa), a cultivation practice based on the principles of Truthfulness-Compassion-Forbearance, and expose the Chinese Communist Party (CCP)'s ten-year brutal persecution.
The weather was not ideal, but Willy-Brandt Platz near Leipzig's central train station was still packed with people. Many tourists and local residents took time to study the content of the Falun Gong information. They inquired about China's human rights situation, the features of Falun Gong, and the persecution. Many lingered in front of the exhibits.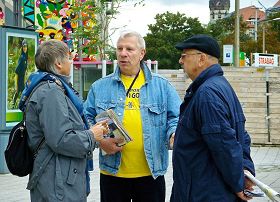 A practitioner explains the facts about Falun Gong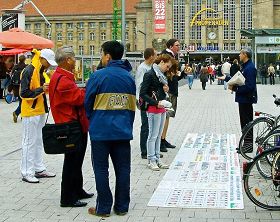 Chinese tourists listen to a practitioner's explanation of Falun Gong
A young German took a leaflet and said with a sad expression, "It was four years ago when I heard that Falun Gong was being persecuted by the CCP. Who would have thought that four years later the inhuman persecution is still continuing and is getting worse and worse? This is beyond comprehension."
Leipzig is an important tourist destination, attracting large numbers of visitors from around the world each year, including many from China. On this particular day, several Chinese tourists were rather surprised to find information about Falun Gong outside of China. They approached in small groups to quietly listen to practitioners' explanations and ponder. Some were glad to accept copies of the "Nine Commentaries on the Communist Party" and other Falun Gong informational materials.
An elderly Chinese gentleman was in Germany on a tour with his family. Initially he was suspicious of the materials offered by practitioners. He asked whether they were provided by the German government. Practitioners told him that the printing costs were covered by Falun Gong practitioners. The gentleman understood. He took all kinds of materials and said that he would read them over on the train. Even though he was not a member of the CCP, he said he would think about the information on quitting the CCP that practitioners had shared with him.