Helsinki, Finland: Tourists and Locals Inspired by Practitioners' Peaceful Resistance to the Communist Regime's Persecution (Photos)
August 08, 2009 | By a practitioner in Finland
(Clearwisdom.net) At the beginning of August, 2009, Falun Gong practitioners in Finland held activities in a riverside park near downtown Helsinki to introduce Falun Gong and expose the Chinese Communist Party's (CCP) ten-year persecution. The park is a popular place for locals and tourists. The practitioners hung banners that read "Falun Dafa is good" and "Stop the CCP's persecution of Falun Gong", set up poster boards and handed out flyers and newspapers.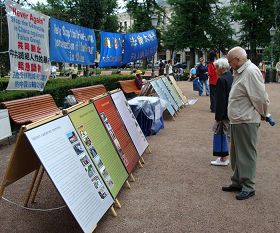 Visitors learn the details about the CCP's persecution of Falun Gong in China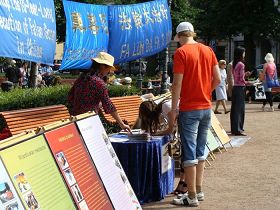 Visitors sign a petition to condemn CCP's persecution
On square of the famous Helsinki Cathedral, the practitioners also held activities to expose the persecution of Falun Gong and promote quitting the CCP and its affiliated organizations.
A local resident said he had seen Falun Gong practitioners' events there during the past several years. He said, "You do valuable things here. What you do is important as long as there is the persecution by the CCP regime in China."
A boy Rafael viewed the poster boards and came forward to sign the petition calling for an end of the persecution.
Jenny, a tourist from England, was shocked at the brutal persecution in China after viewing the posters. She did not know that the CCP was so cruel. She asked for more information about Falun Gong and the persecution. She said she strongly supported Falun Gong practitioners.
A man jogging paused to talk with the practitioners, "The communist party is so evil. If there is no communist party in China, it will become better there. It would be good if there is no communist party in the world. It is very good that you conduct such an event. I sincerely hope you'll soon see the day that the persecution ends."
A couple of Russian tourists said emotionally to the practitioners, "We know what has happened in China and that the CCP is evil. The CCP uses its army to kill innocent people. The CCP should be destroyed." They also said, "You must keep going."
Another couple stood in front of the poster boards for a while. They said, "We know Falun Gong. We have visited many countries, where there are Falun Gong practitioners. I feel you should have an armed uprising to stop the persecution." The practitioners explained that Falun Gong practitioners always protest the persecution in a peaceful way and expose the persecution to the world's people. The couple said, "This is very good. We stand on your side."