Falun Gong Practitioners' Family Members Accuse Daqing Prison Deputy Warden Li Weilong of Abuse of Power (Photos)
(Clearwisdom.net)
We are family members of Falun Gong practitioners who have been illegally detained in Daqing Prison. We accuse Li Weilong, the new deputy warden of the Daqing Prison in Heilongjiang Province, of committing the crime of abusing power by intentionally injuring prisoners.
The facts behind the charges are listed as follows:
1. In late March 2009 while Li Weilong was still the Political Office Director of Daqing Prison, he did not allow Falun Gong practitioners who refused to wear the prisoners' uniforms to go to the cafeteria to eat when he was on duty. When he saw them eating in the cafeteria, he ordered them beaten and stripped of their clothes. Under his incitations, the Daqing Prison staff frequently persecuted Falun Gong practitioners. [Note: Because Falun Gong practitioners have committed no crime, are not criminals, and should not be imprisoned, practitioners sometimes protest their illegal detention by refusing to wear the prison uniform or prisoner's name badge, answer role call, or perform forced labor.]
2. On April 25, 2009, Li Weilong did not allow the Falun Gong practitioners who were imprisoned at Daqing Prison to eat breakfast or lunch. At dinner time, he also did not allow the practitioners to enter the cafeteria to eat dinner. He stripped the clothes of practitioner Wang Shusen who was imprisoned at the Fifth Prison District, and beat him badly, which caused him many wounds. He also stripped the practitioners who were imprisoned in the Fourth and Sixth Prison Districts and beat them. He tore up and burned the clothes of practitioners who did not wear the prison uniform. Prisoner Li Shuguo (not a practitioner) from the Eleventh Section of the Sixth Prison District saw Li Weilong not allowing the practitioners to eat. He went to the cafeteria and brought food to the practitioners. When Li Weilong found out, he asked Li Shuguo who he brought the food to. Liu Shuiguo said he brought the food to the practitioners. Li Weilong said, "I did not allow them to eat. And you brought food to them." He knocked Liu Shuguo to the ground. Then a group of police came up and brutally beat Li Shugong. Li Shuguo could not move and his whole body twitched. Finally two prisoners carried Li Shuguo to the prison dorm.
Until May 2009, the practitioners who were imprisoned at the Seventh Prison District and did not wear the prison uniform could not go to the cafeteria to eat for more than a month.
3. On May 3, 2009 at lunch time, Li Weilong forcedly stripped Falun Gong practitioner Xu Zhi's sports pants. He also brought tens of Falun Gong practitioners to the front of the cafeteria. Then the warden of the Sixth Prison District Li Weinan arrived. He verbally abused the practitioners and then slapped their faces one by one. The practitioners shouted, "Falun Dafa is good". Li Weilong and Li Weinan beat practitioners Liu Zhigao and Zhang Kuiwu to the ground, stripped their clothes off and beat them badly (prison police Yang Zuoxing and Fu Xuelin were on the scene as well).
During dinner, Li Weilong and Li Weinan verbally abused and insulted the practitioners. They also beat practitioners Zhang Xingguo and Ren Zhongde.
4. On July 8, 2009, Li Weilong, who had just been promoted to deputy warden of Daqing Prison in charge of education and transformation, announced in the cafeteria that the Falun Gong practitioners who did not wear the prison uniform were not allowed to go to the cafeteria to eat and it was not allowed to bring food to their prison dorm.
5. On July 13, 2009 afternoon at about 3:00 pm, Li Weilong and Li Weinan dragged practitioners Qiu Xuezhi (who was in shock from hunger and had been sent to the hospital for examination a few days ago), Liu Guoliang and Yun Fuqi downstairs although they had not eaten anything for six days. Li Weilong and Li Weihan slapped their faces, kicked them and stripped off their clothes. Then they forced the practitioners to squat on the moist ground. Liu Weinan put his foot on their shoulder and then stepped over their head. Then Li Weinan and Li Weilong "rode" on the practitioners' body to humiliate them.
Before then, Li Weinan also incited the prisoners in the Sixth Prison District to forcibly carry Falun Gong practitioner Yang Gongxi who did not eat for five days to the factory district twice and beat him. Bruises were all over Yang Gongxi's body due to the beating. Then the prisoners tied him up with ropes. Yang Gongxi was severely injured.
6. On July 14, 2009 afternoon, Li Weilong and Li Weinan incited prisoners Li Wuhui and others to beat Falun Gong practitioners Zhang Xingye, Yang Gongxi and others. The prisoners used strips of tree bark to beat Zhang Xinye which caused bloody wounds on his body. Then the prisoners cuffed his hands and feet and left him exposed to the sun, which nearly caused him to die. (see attached photos below)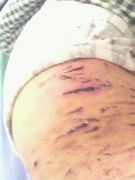 Photos: Taken one week after Zhang Xingye was beaten, after his injuries had partially healed
According to incomplete statistics, since June 4, 2007, Li Weilong has beaten Falun Gong practitioners Wang Shusen, Liu Zhigao, Zhang Kuiwu and others nearly one hundred times. This article can only describe a few of them.
Li Weilong not only brutally persecuted Falun Gong practitioners, but also treated the other prisoners very cruelly.
1. On July 8, 2009 about 8 o'clock in the morning, eight prisoners from the Sixth Prison District including Yang Xiaodong, Yang Shuangdi, Deng Xiaojun and others were brutally beaten by Li Weilong using electric batons. Their wounds did not heal for a very long time.
2. In June 2009, Li Weilong beat a prisoner in the Fourth District which caused the prisoner's testicle to be swollen.
3. Prisoner Geng Baoquan from the Sixth Prison District was beaten by Li Weilong in front of the cafeteria with a few hundred people at the scene. Li Weilong also stepped on Geng Baoquan's face.
4. Li Weilong beat prisoner Yu Hongtao from the Seventh Prison District (already transferred) to the ground and drew on his back to humiliate him.
Li Weilong started to beat prisoners as soon as he was transferred to this prison. He has beaten prisoners several hundred times. He often laughs after beating people.
The first rule of the Ministry of Justice's six rules for prison police forbids the police to beat or incite others to beat the prisoners. As a prison warden, Li Weilong took the lead in violating the law. Our imprisoned family members' physical and mental health has been constantly threatened. For this reason, we strongly request, based on the law, that he be removed from his warden position and investigated for his crimes.
We ask all leaders to take responsibility for the safely of the people. We will appeal to the highest level of authority necessary to achieve justice.
Regards,
Family members of the Falun Gong practitioners who have been imprisoned at the Daqing Prison
August 15, 2009
CC:
1. Hu Kangsheng, Legal Committee director, Standing Committee of the National People's Congress
2. Wu Aiying, Ministry of Justice minister
3. Meng Jianzhu, CCP Central Politics and Law Committee vice secretary
4. Xiao Yang, the Supreme People's Court chief
5. Ji Bingxuan, Heilongjiang Province CCP Party Committee secretary
6. Huang Jiansheng, Heilongjiang Province CCP Politics and Law Committee Secretary
7. Liu Yichang, Heilongjiang Province Judicature Department chief
8. Nan Ying, Heilongjiang Province High Court chief
9. Jiang Wei, Heilongjiang Province High Procuratorate chief prosecutor
10. Qian Yunlu, Heilongjiang Province People's Congress director; Liu Haisheng, vice director
11. The leaders of the Heilongjiang Province Prison Administrative Bureau
12. The leaders of the Daqing City Judicature Bureau
13. The leaders of the Daqing City Government