Twelve Contestants Enter Semifinals in Chinese International Violin Competition (Photos)
August 29, 2009 | By Minghui Correspondent Kelly Huang
(Clearwisdom.net) The preliminary round of the NTDTV Chinese International Violin Competition, sponsored by NTDTV, was held at the Kaufman Center's Merkin Concert Hall in New York at 12:30 p.m. on Aug. 27, 2009. Participants from Europe, America, and Asia entered the competition. Twelve contestants will move on to the semi-finals.
Judge Chia-Chi Lin said the contestants did an excellent job today. They played Mozart concertos with individual style and showed great potential. The next round would be even better and more competitive. She wished them great performances on the next day.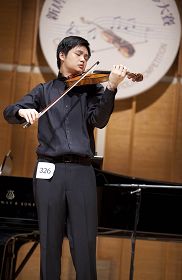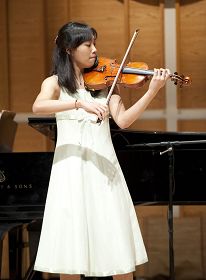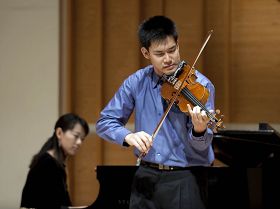 Contestants
Chinese and Western classica; music was selected for the preliminary, semi-final, and final competition. Contestants had a choice of selections from one of three Mozart concertos--No. 3, 4, or 5--during their preliminary round.
Ms. Ma Lijuan, Chair of NTDTV's Nine Competitions Committee, said the nine competitions aims to restore classic culture and provide a platform of cultural exchange for the Chinese around the world. Every contestant has made his contribution to this cause.
Judge Chia-Chi Lin said that skill isn't the only criterion. Judges also look at the character of the contestant. A good musician not only has great skill but also great inner qualities. Each musician puts different feeling into the same piece of music. Music is a language a musician speaks to the audience. A musician should express what is most beautiful in his heart and take the audience into consideration. Those who listen to beautiful music will give up bad thoughts and feel uplifted and purified. If a musician can reach such realm, he is successful.
Ms. Zhang Yi from Taiwan is a PhD student at Rutgers University Mason Gross School of Music. She tours around the world to give performances every year. She said it is not easy to play Mozart, because the music is so perfect and simple that it tests one's true skill.
Cai Chenhan, a PhD student of music at the Eastman School of Music, won the Outstanding Performance Award at the competition last year. He said he learned a lot from last year's competition, so he is participating again this year. The music is hard this year, but he doesn't care too much about his ranking. He just wants to do his best, share music with others, and learn from the competition.
Ling Xianyou, a Masters student in Rice University, started learning violin from the age of five. He thinks the NTDTV competitions are great. He wants to present his talent on a world level stage.
NTDTV Chinese International Violin Competition Semifinalists:
Alissa Cheung: Alberta, Canada
Richard R. Lin: USA
Yuncong Zhang: New York, USA
Nancy Zhou: Texas, USA
Shu Cheng Yang: Quebec, Canada
Andrew Ling: Texas, USA
Shih-Kai Lin: New York, USA
Andrew Eng: Massachusetts, USA
Shelly Ren: California, USA
Chen Han Tsai: New York, USA
Zhangtong Song: California, USA
Christopher Wang: Saxony, Germany