People's Daily Journalist Publicly Quits Communist Party (Photo)
August 28, 2009 | By Minghui reporter Li Huirong
(Clearwisdom.net) Qiu Mingwei, a former journalist for the Chinese communist regime's propaganda newspaper, The People's Daily, who fled to Hong Kong last month, announced in a press conference on August 23 that he quit the Chinese Communist Party (CCP) and its affiliated organizations, making him the first working employee of an organization affiliated with the regime's Central Propaganda Department to quit the CCP using his real name.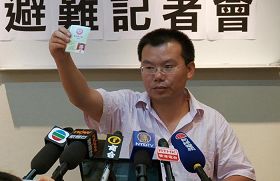 Qiu Mingwei at the press conference
Mr. Qiu worked as the Deputy Chief of the "People's Forum" of People's Daily, the main mouthpiece of the CCP. He traveled to Hong Kong in late June to attend the International Federation of Journalists' conference, and during his stay he was photographed participating in Hong Kong's July 1 march, an annual rally supporting democracy and human rights. He fled the mainland to Hong Kong on July 30.
Many media turned out at the press conference when Mr. Qiu made his public announcement, "While working for People's Daily, I had already used the platform in the office to visit the Epoch Times' Quit the CCP Service Center website and I had already quit the CCP once. After coming to Hong Kong, I quit again, online. Today, I'm making a public announcement to sever all ties with the CCP, including the Young Pioneers, the Youth League, and the Party."
"I have been working for People's Daily for many years. Even I could not find any improvement in human rights in China. They did not keep their promises, and the human rights condition is getting worse." Qiu stated that he faced a series of retaliations after returning to Beijing. His boss told him that the Daily was going to revoke his journalist license and fire him. His phone was tapped and his apartment was searched by authorities. He was not free to move around and was charged with the crime of collaborating with the enemy. In addition, he was forced to sign his name on a piece of blank paper, to which anyone can add any statements later and use as an official declaration when faced with questions from the international community.
Qiu said that someone from higher-up told him that the political persecution against him happened because he had done some investigations on the persecution of Falun Gong and helped some Falun Gong practitioners. "He said, 'I had conducted some negative investigations that were related to land embezzlement, Falun Gong, and local party officials' corruption.' I was also told that these problems were not important. However, my investigation of Falun Gong was not a positive thing for me."
Qiu said that he later realized, "It's absolutely not just because I joined the Hong Kong July 1 march. It's absolutely not just because I attended those meetings in Hong Kong or because I met with some dissidents. It's because I dared to help Falun Gong practitioners. That's why this is happening today. They are trying to settle new and old scores with me."
Mr. Qiu said that he had personally witnessed the persecution of Falun Gong practitioners. He once saw a woman being chased by an official who intercepted appellants, and the woman was drowned after falling into a moat. He said, "I was not the only one who saw it. Many appellants saw it happen. We were all shocked when we saw it. I asked the other appellants why they were so cruel to an appellant. An appellant told me that the woman was a Falun Gong practitioner."
Mr. Qiu learned that many Falun Gong practitioners who had gone to appeal [in Beijing] led a miserable life, being destitute and homeless. He deeply sympathized with them and helped [some practitioners] in their lives. He also reported the problem to his superior. But his superior clearly told Mr. Qiu that he would certainly not touch the Falun Gong issue. Even if he himself touched it, he was afraid that he would also be finished.
Mr. Qiu recalled another incident. Once he was warned for stopping a police officer from violently beating a Falun Gong practitioner, "Don't get entangled in it any more, otherwise you will lose your job." The police officer asked him, "Don't you believe? If you stand up for Falun Gong, you will be regarded as a backer of Falun Gong. You will be arrested. Do you know how many years you will be imprisoned?"
Mr. Qiu revealed the CCP's extensive penetration in overseas countries, "The CCP sent out culture spies to penetrate overseas Chinese media and websites, attacking and framing dissidents, including media workers, like us in China, who promote democracy movements. They would intentionally or unintentionally, make things blurry so that the chief persecutor would escape the attention of the international media, turning himself from a murderer into an innocent man, deceiving the international media and community. Such an act is no different from the terrorist acts perpetrated in the early Cultural Revolution."
Since he fled to Hong Kong, Mr. Qiu's residence in Beijing has been searched, and he is not safe in Hong Kong, either. He disclosed that his thumb drives were stolen in his hotel twice, and he was followed the day before.
Being asked if he was worried about his family's safety, he said, "I hope that my family will be safe, but I can clearly tell you, my wife is receiving treatment with psychiatric drugs proscribed by a psychiatric hospital. You can imagine what situation my family is facing. Then, all this is caused by the CCP, and the CCP will be held accountable if my family members meet with any danger in future."
But Mr. Qiu stressed that he won't succumb to the CCP's dictatorship, and he called upon the international community to provide assistance with the safety of his family.