Oakland, California: Support for Falun Gong at Streetfest (Photos)
August 25, 2009 | By Wang Ying
(Clearwisdom.net) On August 22 and 23, 2009, Falun Gong practitioners from the San Francisco Bay Area held a truth clarification activity at the Oakland Streetfest. During the two-day event, many visitors learned the truth about Falun Gong and expressed their support for the practice.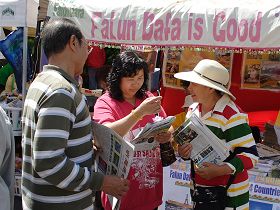 A Falun Gong practitioner (right) speaks to Chinese visitors about the magnificence of Falun Gong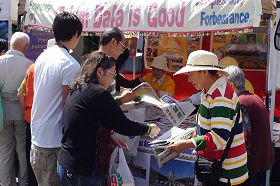 People ask for truth clarification material

People ask for truth clarification material
On August 22 and 23, many citizens living nearby Oakland attended the annual Oakland Chinatown Streetfest, which featured nearly 300 booths and artistic performances. The streetfest attracts about 100,000 festival-goers every year.
Falun Gong practitioners set up a booth and prepared a lot of truth clarification materials, including "Today's Falun Gong" in English and "Minghui Weekly" in Chinese. Many people came to the booth to ask for the materials. Two ladies from Guangdong Province quit the Youth League and the Young Pioneers League of the Chinese Communist Party (CCP) after having learned the truth.
Ram, an Indian American, learned from practitioners that Falun Gong teaches people to be kind, the exercises are taught free of charge, and practitioners conduct themselves according to the principles of Truthfulness-Compassion-Forbearance. He said, "Falun Gong is really great!"
Ram has a television station in the Bay Area and said he would like to play a video introducing Falun Gong on his station. He said, "I want to support you."
Ram said that he knew that the CCP persecutes Falun Gong, and thought that the American government should pressure the CCP to let the Chinese people enjoy freedom of belief.
Patricia, a festival-goer, said that she had heard about the CCP's atrocity of harvesting organs from living Falun Gong practitioners. She said the CCP is good at covering up the truth, so many people have not learned about these things. She said that the American government should strongly pressure the CCP, and the persecution of Falun Gong should be stopped.
Edward, a resident of Oakland, said that Falun Gong practitioners should have the right to practice their belief, and that the persecution is wrong. The CCP is a dictatorship, and it isolates itself. He said, "I hope the international community can do something to help stop the persecution."