Divine Land Marching Band Performs in Yogyakarta, Indonesia (Photos)
August 21, 2009 | By a Falun Dafa in Singapore
(Clearwisdom.net) To celebrate the upcoming Indonesian Independence Day, the Divine Land Marching Band, formed by Falun Gong practitioners in Singapore and Malaysia, went to Yogyakarta, Indonesia to give a performance in front of the Borobudur, a famous Buddhist temple and tourist attraction, on the morning of Aug. 15, 2009. The band led a 10-kilometer-long large scale parade in the business district in the afternoon. Their wonderful performance won warm applause from spectators.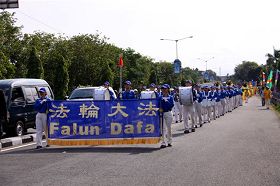 Divine Land Marching Band in parade in Yogyakarta
Yogyakarta, located in the center of Java, Indonesia, is a cultural and educational center with a population of more than one million people. Among them there are twenty thousand Chinese. Borobudur, the Buddhist Monument, and Prambanan, a Hindu temple compound, are the tourists' favorites among the many historical sites.
The Divine Land Marching Band gave local residents and tourists a rare chance to learn the true story of Falun Gong.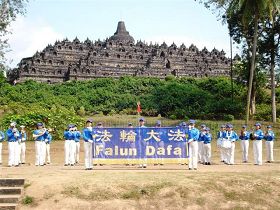 The Divine Land Marching Band performs in front of Borobudur.
With permission from the administration of Borobudur, the Divine Land Marching Band performed on the open field to the right of the main entrance. The majestic and resonant trumpets and drums reverberated through the sky.
More and more tourists passed the main entrance close to noon. The music of the Divine Land Marching Band attracted them to watch. They rewarded the band with warm applause.
The band led a 10-kilometer-long parade of Falun Gong practitioners in the afternoon. Parade spectators gave them long-lasting applause and happily accepted introductory pamphlets about Falun Gong.