Ms. Hu Qili Arrested and Sent to Forced Labor Camp for the Second Time (Photo)
(Clearwisdom.net) Ms. Hu Qili of Shuangyashan City, Helongjiang Province was arrested by several police officers, including police chief Li Hongbo and officer Zhuo Aiming from the Shuangyashan City Lixin Police Station at around 8:00 p.m. on July 20, 2009.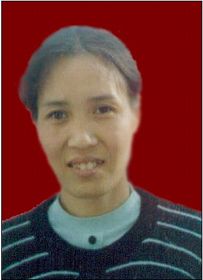 Ms. Hu Qili
The police used the excuse of collecting a utility fee to trick Ms. Hu into opening her door. Two officers pushed Ms. Hu and her daughter to a sofa to make them sit, and the officers threatened her daughter, saying that they would harm her if she didn't do as ordered. Without showing any identification, the police ransacked Ms. Hu's home, and took many of the family's personal belongings, including 400 "yuan" in cash. Ms. Hu and her daughter were not allowed to use the bathroom before they were forced to leave with the police. Three or four officers carried Ms. Hu to a car by force without letting her put on her shoes. The police also took Ms. Hu's daughter with them to the Lixin Police Station.
The following day the police also arrested Ms. Hu's husband, Mr. Sun Hui, at his workplace, and detained him for over 40 hours. Mr. Sun and his daughter were released on July 22, but Ms. Hu is still being detained in the Shuangyashan Detention Center. Ms. Hu's parents went to the police station to demand Ms. Hu's release, but to no avail. Her family is very worried about her.
Ms. Hu, 48, was an employee of the Coal Mining Bureau First Construction Project Hospital, which is now called Fangyuan Hospital. Since the Chinese regime started persecuting Falun Dafa in 1999, she has been constantly harassed by the local police. As a result, she lost her job and income. Wherever she was employed, the police followed and harassed her, causing her to be unable to work.
On November 21, 1999, Ms. Hu went to Beijing to appeal for Falun Dafa and was arrested and detained in the Beijing Xicheng Detention Center for 17 days.
On July 2, 2000, she again went to Beijing to appeal and was consequently detained in the Jiamusi Xigemu Forced Labor Camp for one year.
On September 6, 2001, Ms. Hu was arrested and detained in the city's forced labor camp and was released on November 3, 2001.
On February 20, 2002, when the family was celebrating her daughter's birthday, the police used a key to open her home and took Ms. Hu away.
Ms. Hu was detained in the Jiamusi Xigemu Forced Labor Camp for two years, during which time she endured extremely brutal torture. She was forced to sit on a torture bench for 17 to 18 hours a day, and was forced to watch video programs that defamed Falun Dafa. She was also handcuffed in a "forced back bend" position for several days in a row [a very painful form of torture in which one arm is reaching down the back behind the head and the other hand meets it from the lower back. The two hands are handcuffed together to cause unbearable pain] .
Personnel who directly took part in mistreating and torturing Ms. Hu:
Li Yanchun, chief of the Shuangyashan City Public Security Bureau: 86-469-4233001 (Office), 86-15331811777 (Cell)
Lixin Police Station:
Li Hongbo, chief: 86-15046825789 (Cell)
Zhuo Aiming, police officer: 86-15046825789 (Cell)
Shuangyashan Public Security Bureau Anti-[slanderous term omitted] Task Force
Du Zhanyi: 86-469-4248910 (Home)
Yu Yongjiang, city party secretary and the 610 Office: 86-469-6103990 (Office), 86-469-4464599 (Home)