New York City Mayoral Candidate Declines China Invite (Photo)
August 10, 2009 | By a practitioner from New York
(Clearwisdom.net) On August 6, 2009, Councilman Tony Avella, who is a candidate in the 2009 New York City mayoral race, declined an invitation to China, saying he will not go until the Chinese Communist Party (CCP) ends its human rights abuses.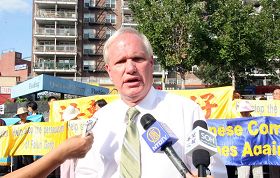 Tony Avella
The invitation was extended from the Asian American Business Development Center in Manhattan, and was for a trip to China on October 9-18. Mr. Avella made the announcement during a press conference in front of the Queens Library in Flushing, New York on Thursday evening.
"I'm not going to go and I would never go until such a time when the Chinese government responds to the human rights abuses, not only in China, but their persecution of Falun Gong practitioners here in the United States," said Avella, referencing the numerous attacks against Falun Gong practitioners in Flushing, many of which have been linked back to the Chinese Consulate of New York.
Mr. Avella continued, "Clearly we elected officials of the United States should send a clear message to them that we don't think human rights abuses and throwing people in jail for their beliefs is appropriate."
"I think the evidence is clear and what is going on in downtown Flushing is clear. It is unacceptable, here and in China itself. I for one am not going to be fooled by this," he said.
Mr. Avella added, "If more of my colleagues and elected officials in this country would do similar actions to what I'm doing today, it would send the message to the Chinese government that they have to change. They can no longer act in such a fashion."
According to former Chinese government officials and diplomats, the Chinese government often tries to seduce Western politicians with money, free trips to China and other benefits to convince them to support the CCP. Prof. John Li from City College praised Mr. Avella for resisting the CCP and setting up a model for other American politicians.
Four Falun Gong practitioners gave speeches at the press conference, exposing the persecution they experienced.
Yu Zhenjie, 58, is from Mudanjiang City, Heilongjiang Province. She was arrested and jailed several times, and badly tortured. Her brother and sister-in-law were sentenced to 13 and 11 years respectively. She called upon the American government to help rescue them.
Liu Yan, 58, is from Beijing. She was arrested, imprisoned and physically tortured in March and May 2001. She was later sentenced to four years in a labor camp, where her legs were beaten and injured. She was force-fed, her head was badly beaten and her left eyeball was knocked out. She was deprived of sleep for a long time, and beaten and shocked on the face with electric batons several times.
HTML clipboard