Autopsy Shows Mr. Lu Zhen Suffered Severe Physical Trauma Prior to Death (Photo)
(Clearwisdom.net) Mr. Lu Zhen, 33, died in the Shandong Province First Prison on June 22, 2009. His neck, hips, stomach, and legs were covered with bruises, and there were whip marks on his body. His family did not believe the prison administration when they told them that he died of sudden heart failure and that it was a natural death. They requested an autopsy on the morning of June 30, 2009, and the results showed that he had suffered severe physical trauma prior to his death. It is highly likely that a beating was the cause of death.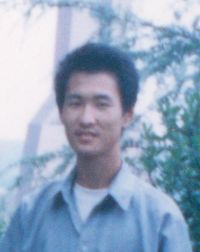 Mr. Lu Zhen in college
The autopsy found that blood had accumulated in his chest, and his buttocks and back sides of his thighs seemed fine on the surface, but the muscles under the skin showed sever signs of trauma. It is likely the result of multiple rubber baton beatings as reported earlier.
Mr. Lu Zhen, born on July 25, 1976, was from Xirulai Village, Mengyin Township, Mengyin County, Shandong Province. He was an excellent international finance student at Chongqing University, where he first learned of Dafa. Since beginning the practice, he strictly followed the principles of Truthfulness-Compassion-Forbearance.
In May 2000, Mr. Lu went to Beijing to appeal and was dismissed by the university. He went to Beijing again in June 2000 and was sent to Xishanping Forced Labor Camp for one year. There remained deep scars on his head and arms as a result of the tortures received in the camp.
The university took him back to his hometown, where he was released, but the Mengyin government refused to accept him as a legal resident. The local 610 Office ordered the village officials to call him daily, and threatened people to not contact him. His family was terrified, so Mr. Lu left home.
In March 2004, the police arrested him in Mengyin Town, detained him in the Linyi City brainwashing center in April 2004, and later detained him at the Mengyin County Detention Center. He was sentenced to 11 years in prison in December 2004 and was sent to the 11th Ward of the Shandong Provincial Prison.
The 11th Ward is the new inmate ward, and many prisoners tortured Mr Lu there. He entered the regular ward in 2005, but was taken back to the 11th Ward in 2007, where many prisoners were assigned to torture him everyday. He was forced to sit on a small stool for a long time and endured brutal beatings. In February 2009, Mr. Lu and two fellow practitioners, Mr. Wang Fucheng and Mr. Shi Lei, were locked in solitary confinement for passing along Teacher's scriptures. They were forced to sit on small stools with their knees against the wall, and the guards blinded them by shining bright lights in their eyes.
Mr. Lu was in excellent health prior to entering the prison, and no one in his family had any history of heart disease. His family was not notified of anything until the day they were told that he had died, on June 22, 2009, in Shandong Province First Prison at age 33.
Due to the information blockade, we can only find bits of information on how Mr. Lu was tortured in prison. We call on people who believe in justice to provide details of the cause of death, and also appeal to international human rights organizations to investigate the true cause of Mr. Lu's death and bring the killers to justice.
Shandong Province First Prison (Men's Branch) operator: 86-531-87075454
Qi Xiaoguang, CCP director, in charge of persecution matters
Zhang Leiguang, 11th Ward (New Inmate) Warden
Chen Ran, 8th Section Chief of 11th Ward: 86-531-87072680
Guo Jian, 8th Section Chief of 11th Ward: 86-531-87072680
Zhang Guangjing, Mengyin County CCP Secretary: 86-539-4271689, 86-539-4272205, 86- 13953901234 (Cell)
Li Baoyuan, Mengyin County 610 Office Chair: 86-539--4811681, 86-13953958936
Zhang Yong, Mengyin County Domestic Security Division Chief, main evil doer on persecuting Falun Gong in Menyin county: 86-13953906866 (Cell)
Earlier reports: http://www.clearwisdom.net/emh/articles/2009/7/4/108838.html http://www.clearwisdom.net/emh/articles/2009/7/21/109357.html