Korea: Christian Group Calls on Korean Government to Protect Falun Gong Practitioners (Photo)
July 29, 2009 | By a Dafa practitioner in Korea
(Clearwisdom.net) On July 24, 2009, Jin Kuihao held a press conference in front of the National Human Rights Commission of Korea. Mr. Jin, Director of Administrative Affairs of Christian Social Responsibility, condemned the Korean government for forcibly repatriating Falun Gong practitioners. He demanded that the Korean government treat Falun Gong practitioners kindly.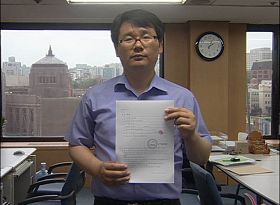 Pastor Jin Kuihao delivers a statement to the National Human Rights Commission of Korea.
Mr. Jin represented civil Christian groups, including Christian Social Responsibility and the Advanced Civil Movement. He called the press conference. He said that, based on the laws in Korea, the county could issue temporary entry permits to those who have not obtained refugee status based on humanitarian considerations.
Mr. Jin pointed out that, on July 1, the Korean government deported Falun Gong practitioner Mr. Wu, who promised to contact practitioners in Korea as soon as he got back. It's been more than 20 days and no one has had heard from Mr. Wu. Mr. Jin stated that it was against international and Korean laws that the Korean government repatriated Mr. Wu. He condemned the government's inhumane act. He said that the government should take responsibility and prevent such a thing from happening again. Mr. Jin called on the government to protect Falun Gong practitioners by sending them to a third country or issuing them temporary entry permits.
Mr. Jin said in an interview that it was very important now to discover Mr. Wu's whereabouts, because his life could be in danger. He has asked the Department of Justice to find out Mr. Wu's whereabouts through the Ministry of Foreign Affairs and to ensure his safety.
After the press conference, Mr. Jin delivered a statement to the National Human Rights Commission of Korea. He said, "I am here today to tell the Commission of the grave mistake made by the Korean government. Although Mr. Wu is of Chinese nationality, this human rights violation took place in Korea. I call on the Commission to conduct further investigations and make public what it finds."
Mr. Jin stressed that Christian groups in Korea would continue to protest and appeal to make sure of Falun Gong practitioners' safety.